Lifestyles
1884 photo of Honey Grove Square published in Texas A&M Press book
Nov 2, 2014
Honey Grove, Texas -- A wonderful 1884 photo of the Honey Grove square has been published in a new volume from Texas A&M Press, titled Lens on the Texas Frontier, by Lawrence T. Jones III.
This beautiful book contains some of the most interesting and historically important photographs from the collection of Lawrence T. Jones III. His collection of over 5,000 photographs taken in Texas from 1846-1945 is now at the DeGolyer Library at Southern Methodist University, and the entire collection can be viewed at http://digitalcollections.smu.edu/all/cul/jtx/
The photograph of the Honey Grove Square shows the east side of the square on a market day, with the square full of wagons pulled by horses and mules.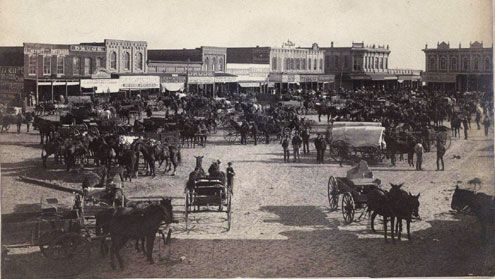 The following businesses can be seen:
J. J. Nesbitt Dry Goods
G. A. Dailey Books & Stationery, Paints & Varnish, Wines & Liquors
J. M. Lord, Clock, Watches & Jewelry
W. D. Wilkins Dry Goods & Groceries
E. F. Wortham, Confectioneries
A drug store offering jewelry, school books, paints, wines and whiskey
The Tennessee Saloon
Hall & Nicholson's Alabama Store
J. S. Erwin & Co. Grocers
J. P. Pierce's Grocery House
H. Myers & Co.
La Grone & Co. Groceries
T. B. Yarbrough
The Big 4 Saloon
Rutherford & Gardner Groceries, Produce, Wines & Liquor
The Honey Grove Preservation League thanks the DeGolyer Library for giving permission to use the photo on the Preservation League's website www.honeygrovepreservation.org, where you can view many additional old photographs of Honey Grove.
Thanks also to the DeGolyer Library for providing a larger digital version of this photo which can be viewed here