Religion
Stan Sanders Productions presents the new gospel play, The Shouting Sister
Aug 27, 2014
Sherman, Texas -- The Shouting Sister celebrates its debut performance on Friday and Saturday, August 29 and 30, 2014, at Sherman's Kidd-Key Auditorium. Performance times are 7:00 p.m. on Friday and two performances on Saturday at 2:00 p.m. and 6:00 p.m.
Written and directed by Stan Sanders, The Shouting Sister is a powerful story about faith, redemption and the human spirit's ability to overcome seemingly insurmountable obstacles. Michelle Monts plays Sister Jackson who can't control herself when the spirit moves her! Even the pastor, played by gospel recording artist Rick Bernard James, doesn't understand her overly-joyful exuberance. The source of her gratitude becomes clear as the story of her tragic loss and ultimate victory is revealed.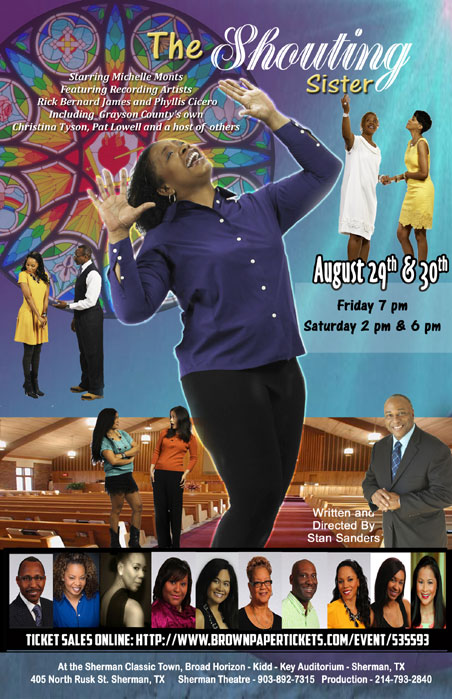 Josephine Hah brilliantly portrays the ever present nosey neighbor whose sewing is constantly interrupted by the shouting sister's wailing to the point where she is convinced "they are killing people" at the church next door.
Veteran actress Phyllis Cicero shines as the antagonistic, sharp witted and always sarcastic Sister Albert, while Mahogany Gregoire plays the insecure young woman, Sister Evans, who believes she is an ugly duckling and struggles with self esteem.
Rounding out the cast is Jerry Gholston whose performance as the pastor's wayward, doubting brother is both hilarious and heartbreaking at times as he struggles to overcome the demons of addiction and bitter jealousy.
"This play is the story of every man and every woman," says Sanders. "Everyone has experienced loss, everyone has been depressed, everyone has made assumptions about people that turned out to be wrong, and everyone has struggled with some sort of challenge or adversity. I wanted to create a story that showed all different kinds of trials and the beauty of rising above those trials through faith."
A phenomenal cast of supporting actors and one incredible gospel choir makes The Shouting Sister a must see theatrical event!
Tickets are now on sale for $20 each at http://www.brownpapertickets.com/event/535593.

Kidd-Key Auditorium has been a part of the Sherman community since the late 1930's, when it began as a stage for Kidd-Key Women's College. The college closed in 1935 and a few years later, the City of Sherman purchased the current property. In 1938, it was designated as a municipal auditorium. Some 75 years later, it continues to be a beacon of cultural and performing arts in Sherman. Today, Kidd-Key Auditorium hosts cultural performances, such as the Sherman Symphony Orchestra and Nutcracker ballet, as well as concerts, plays and other events throughout the year. www.shermantx.org