Front Page
Fannin county Family Crisis Center recognizes volunteers
Aug 9, 2014
The Fannin County Family Crisis Center would like to recognize the Agnew family by making them Volunteers of the month for August 2014. Wesley advertised for a babysitter and housekeeper for his two small boys. Sue had a young son also and the rest is history.
The Agnews moved to Bonham in 2008 to be closer to their son David and his family in Rowlett, Texas. Their son Steven lives in Hot Springs Arkansas. Mike lives here in Bonham. Randy, their oldest son passed away from a car accident in 1980. Wesley and Sue have twin granddaughters, Staci and Stefani, grandson Dennis and a grandson Kevin whom they lost in 2002. They have three great-grandchildren, Madi, Audry, and Nora. Their extended family includes 2 cats: Socks and Smokey and an American Eskimo named Holly.
In their spare time Sue and Wesley like to travel, visit with friends and family near and far, work jig saw puzzles, play games on the computer against one another. In her spare time, Sue crochets; this is an art her mother-in-law taught her when she and Wesley were first married.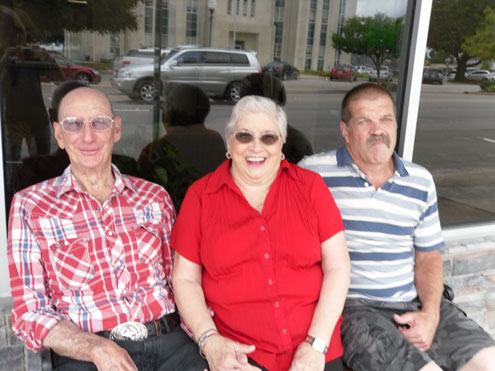 Wesley retired from Air Transport International after working on airplanes for 52 years. Sue is on the FCFCC Board of Directors as well as being a volunteer at the center. Wesley is on the Board of Directors at Fort Inglish and volunteers for tours as needed. He also continues to visit with the gentleman at Clyde Cosper Veterans Nursing home, where Sue worked for 4-1/2 years. She retired after 30 plus years of nursing. Mike owns his own handy man business here in Bonham.
Sue, Wesley, and Mike are wonderful assets to the crisis center. Sue and Wesley help with answering phones, in the food room, with fundraisers, and much more. Mike helps in moving furniture for clients and any other handy work that the center needs.