Front Page
Kathrynís Texas Kitchen
Aug 10, 2014
My first love of life, okay besides my parents, was fresh ripened tomatoes.

Mother says that as soon as I could walk at 9 months old I was getting into the refrigerator to get a tomato.

No salt, no black pepper.

Just that great tomato!
Lately Iíve discovered the joy of fried green tomatoes which are both crusty and juicy. Do not know how I missed that delicious fruit all these years. Yes, tomatoes are a fruit and not a vegetable as I used to think. Iíve never fried red tomatoes but fried green tomatoes have a very different texture than the fresh ripe red ones. Theyíve both got their own virtues and Iíll take both of them at any meal. Forget the meat and bread.
However, those green tomatoes must be fried correctly. If not, you wonít want to eat them, and thatís no joke. What a waste of perfectly good tomatoes.
According to Robert F. Moss, a food historian from South Carolina, fried green tomatoes came to the American Northeast and Midwest from Jewish immigrants.His research found 11 recipes for fried green tomatoes published between 1900 and 1919 and none of them were in any Southern newspapers. Then, home economics teachers caught up with his recipes and passed them on to their students beginning in the early to mid-20th century.
Fried Green Tomatoes
Recipe adapted fromBon Appťtit, June 2013
Ingredients
2 large green tomatoes, sliced 1/3 inch thick
Kosher salt & fresh ground black pepper
2 large eggs
1 tsp hot pepper sauce
1 cup all-purpose flour
1Ĺ tsp garlic powder
1 tsp paprika
2 cups panko breadcrumbs
Vegetable oil for frying (about 3 cups)
4 ciabatta rolls, split, for serving
8 slices bacon, cooked until crisp for serving
Other Items Needed
Measuring cups and spoons
Cutting board
Chefís knife
Paper towels
3 shallow medium bowls
Large deep skillet
Thermometer
Baking sheet
Instructions
Place tomatoes on a large paper towel lined baking sheet and season with salt and pepper. Whisk eggs and hot sauce in a shallow medium bowl. Whisk flour, garlic powder, and paprika in another shallow medium bowl. Place panko in another shallow medium bowl.
Using paper towels pat tomatoes dry. Working in batches, dredge in flour shaking off excess. Coat with egg mixture allowing excess to drip back into bowl.Coat with panko pressing to adhere.
In the skillet pour oil to a depth of 1-inch. Heat over medium heat until thermometer reads 350 degrees. Working in batches fry tomatoes, turning halfway through, until golden brown and crisp, about 3 minutes per batch. Transfer to a paper towel lined baking sheet to drain. Serve with rolls and crispy bacon.
Another dish for a Labor Day picnic is coming up from Kathrynís Texas Kitchen.
Until next timeÖ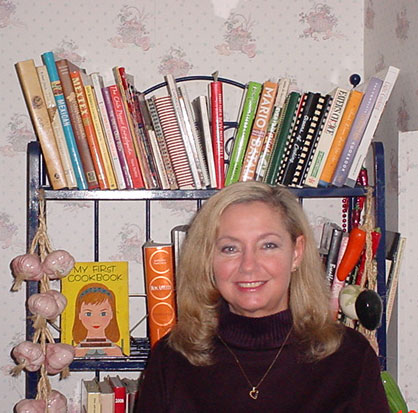 Bon appťtit!