Lifestyles
Dinosaurs seemingly return to life at Heard Museum
Aug 26, 2014
McKinney, Texas -- From September 16, 2014 to February 15, 2015 visitors to Heard Natural Science Museum & Wildlife Sanctuary will be able to let their imagination run wild as they walk back in time along a half-mile nature trail with nine life-size animatronic dinosaurs during the eighth annual Dinosaurs Live! Life-Size Animatronic Dinosaurs exhibit. These animatronic dinosaurs move and roar, providing an experience sure to captivate visitors who will be able to also learn interesting facts about both herbivorous and carnivorous dinosaurs.
The exhibit features the infamous Tyrannosaurus Rex, a frequent favorite among past guests.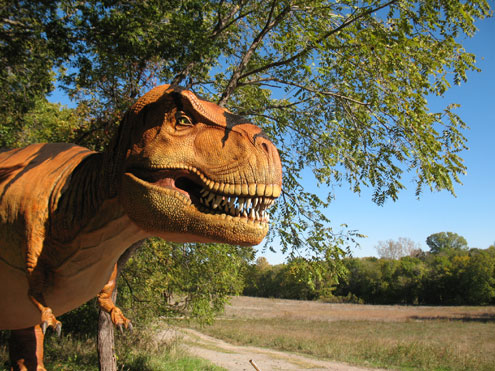 Other dinosaur replicas on exhibit include a spitting Dilophosaurus, a Rugops, an Apatasaurus, a Deltadromeus, a Suchomimus, and a Crylophosaurus. This exhibit will also feature a replica of a Quetzalcaotlus, the largest pterosaur ever found (and one of the largest known flying animals of all time). This species was first discovered in west Texas at the Big Bend National Park in 1971.
Children will also have the opportunity to play on static Apatosaurus and Parasaurolophus baby dinosaurs and on a photo-op T-Rex. The Dinosaurs Live! exhibit trail is jogging stroller friendly (umbrella strollers not recommended), giving families and friends a unique, exciting and educational activity to experience together. This annual exhibit also provides an ideal family outing on weekends and during the holidays.
Dinosaurs at Halloween
Halloween at the Heard, Collin County's premier family-friendly Halloween event, will feature the opportunity for families to trick-or-treat along the Dinosaurs Live! exhibit trail on October 18th from 6 p.m. to 10 p.m. Enjoy a movie under the stars in the Heard's outdoor amphitheater. Kids 12 and under can participate in costume contests. Those who dare can take a trail detour through our "Haunted Forest" after the movie. You may encounter a ghost or creature of the night! (Not recommended for younger guests.) This annual fundraising event sells out each year, so guests are encouraged to purchase tickets when they become available to the public October 1 at www.HeardMuseum.org
About Heard Natural Science Museum & Wildlife Sanctuary
The Heard was founded in 1967 by Bessie Heard. Miss Heard was 80 years old when she saw the need to preserve a place where future generations could experience nature. Today, the Heard's mission of bringing nature and people together is carried out through education, particularly of young people, which emphasizes an appreciation of nature and its conservation. For more information, visit heardmuseum.org.