Local News
2-1-1 Texas website revised
Aug 21, 2014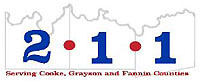 Finding help in Texas is easier since the re-launch of the 2-1-1 Texas website, www.211texas.org. The site is a comprehensive guide to community resources in Texas.

A modern look and user-friendly format allow visitors to search for services state-wide or by geographic area by entering a zip code.

The information is well-organized and easy-to-find with more than 50,000 state and local health and human services programs.

"Iím excited about the redesign of the 211 website for a number of reasons including: the improved visual appearance which makes it more user friendly; the easy-to-find popular topic icons on the home page; and a search by key word and zip code which pulls up resources quickly," states Judy Fullylove, Texoma Council of Governments 2-1-1 Program Manager. "We are proud of the 'new look' of the 2-1-1 website and know the new features will provide the public an easy way to find the referrals they need."

2-1-1 Texas is a program of Texoma Council of Governments in conjunction with Texas Health and Human Services and is committed to helping Texas citizens connect with services they need whether by telephone or internet.