Lifestyles
'Gardening for Butterflies' at Heard Museum Aug. 9
Aug 9, 2014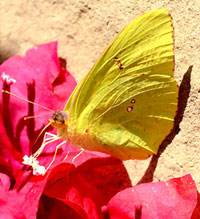 McKinney -- Imagine sitting in your yard, drinking a cold drink and watching beautiful butterflies and other pollinators flying in the yard. It doesn't have to be a dream. If you plant the right plants, you will be surprised with what will start showing up in your yard.

This discussion at Heard Natural Science Museum & Wildlife Sanctuary will include information about native plants that provide nectar and homes for our butterflies and caterpillars. Following the meeting, we will take a walk to the butterfly garden to view many of the plants discussed.

This butterfly talk is geared toward persons ages 10+; however, interested younger children may attend with a parent or guardian. Each butterfly talk runs from 10 a.m. to 11 a.m. The talks are included in general admission and are FREE for Heard Museum members. Reservations are not required; spots are available on a first-come-first-serve basis.

Butterfly House open through September 28

Butterfly Garden open year-round (plant life varies by season)

Walk among free-flying native butterflies and other pollinators in our Native Texas Butterfly House & Garden. The butterfly house includes native species, which vary by season and what is available from suppliers.

Our butterfly garden is filled with host plants that naturally attract these lovely creatures. You may even find a few ideas to try in your own garden!

This area is also a great setting for nature photography and portraiture (small fee applies).