Entertainment
One man - two guitars from the UK to benefit Dylan's Drivers
Aug 8, 2014
Paris, Texas -- LMAO Comedy switches gears this friday with the unique talent of Rodney Branigan from the United Kingdom. Recently crowned the new face of Yamaha Guitars, Branigan has a rather rare talent of being able to play two guitars at one time.
Often the musician will substitute one of the guitars for a mandolin, or a drum….or just add them to the set. He has been part of mater classes and instructional videos for Guitar Magazine, Mel Bay Music, and many more. He tours the world over, recently completing a tour of India, the Middle East and Eastern Europe.
Opening the show is Michael Oneal, singer songwriter whom just finished his 4th full album set to release in October at a special CD Release show at LMAO Comedy.
The MC for Friday night will be XM Comedy's Daryl Felsberg. A portion of the ticket sales will got to benefit Dylan's Drivers. To get tickets go to www.lmaotexas.com and when checking out use the code "dylan" and save $5 a ticket.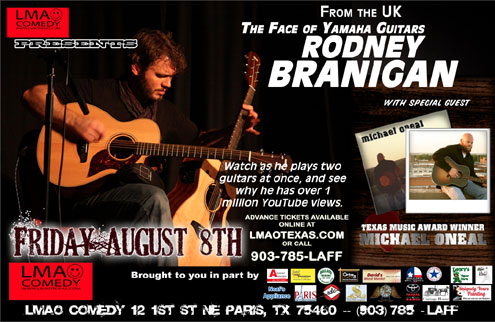 For more information visit the website or call 903-785-LAFF.