Front Page
TravelQuest: Barbecue - part 2
Aug 3, 2014
In my first barbecue piece I took you a little over three hundred miles north and south of Bonham. This time, we'll stay a little closer to home, as in the metroplex. As the excellent Ronnie Van Zandt once uttered, let's put some grease in the frying pan.
This time I started in Garland at a place that is truly sort of a hole-in-the-wall joint. It's Meshack's Barbecue Shack, located on East Avenue B, not to far from where Highway 78 rolls into downtown. As you might expect from a shack, there are no tables inside or out, it's all carry out. Fortunately for me it was one of the rare cool days we've experienced lately, and I had true comfort in my truck under a shade tree.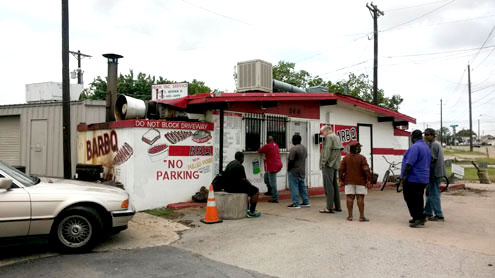 Meshack's Barbecue Shack in Garland. photo by Tim Davis
The ribs were outstanding, whereas the pulled pork was good and tender, but needed more intense smoke and bark (the crusty dark exterior that comes from slow-smoking meats). So why am I not commenting on their brisket? By the time I arrived at 12:45, they were sold out. Many of the regulars standing in line grumbled at the such. That was testament enough for me, and a good reason to arrive much earlier when I soon return.
photo by Tim Davis
The sides were impressive as well. The baked beans contained chunks of smoked meat, and the potato salad had an unusual sweet tang that provoked me to eat more in an effort to identify the unusual flavor. I have no idea what the secret ingredient was, but it was good. And their sauce was a good balance between sweet and tangy.
From there I took Highway 78, or the old Garland Road, to Dallas and ended up at the intersection of Pryor and West Main in Deep Ellum. It's the location of the newest barbecue craze in Dallas, the Pecan Lodge.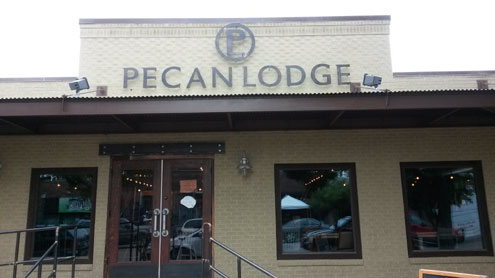 The Pecan Lodge in Deep Ellum in Dallas. photo by Tim Davis
Starting in a shed in the Dallas Farmer's Market, where it was when featured on Diners, Drive-Ins & Dives, the owners decided to move to a building in Deep Ellum earlier this year because they needed more space. What can I say? Great barbecue tends to draw a crowd, and this was truly great barbecue. Quite possibly the best I have ever had in a restaurant.
Interior of Pecan Lodge. photo by Tim Davis
The brisket was definitely seasoned with a dry rub before going on the smoker. The finished product had an intense smoky, seasoned flavor with a seriously dark crust (or bark). Same could be said for the pulled pork and ribs (with both beef and pork being served). The only side I tried were the pinto beans, which were salted and seasoned perfectly.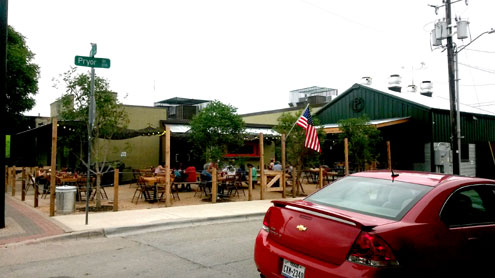 Outside dining at Pecan Lodge. photo by Tim Davis
And there was a touch of the Central Texas experience in that your meats were served on a piece of butcher paper, but with a metal tray underneath for support. And the overall atmosphere wasn't hurt by the fact that the music selection included Lynyrd Skynyrd, the Allman Brothers and Merle Haggard. I found myself wondering just as Shoeless Joe Jackson did in Field of Dreams: "Is this Heaven?"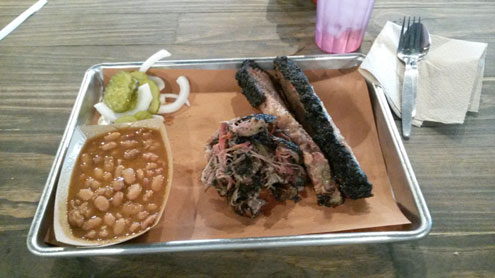 Note the delicious dark exterior on Pecan Lodge meats. photo by Tim Davis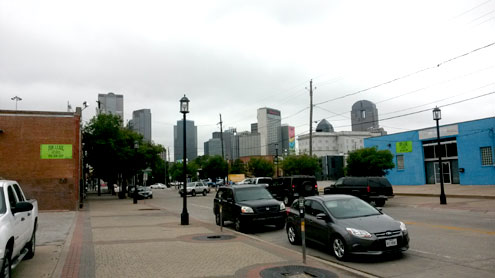 From Pecan Lodge, the view of downtown Dallas. photo by Tim Davis
From there I went farther west to the granddaddy of all barbecue joints in Dallas, Sonny Bryan's. Since they have several locations in the metroplex, I made sure I hit the original at 2202 Inwood Road, not far from Love Field.
Having been around since 1910, and being the winner of a James Beard Award and once featured on Emeril's Lagasse's program, The Originals, my expectations were high. Fortunately, I was quite pleased. The brisket was smoky and tender, the ribs were intensely smoky and came clean off the bone. The smoked sausage was a fine texture much like what you get from Eckrich or Hillshire Farms off the store shelf.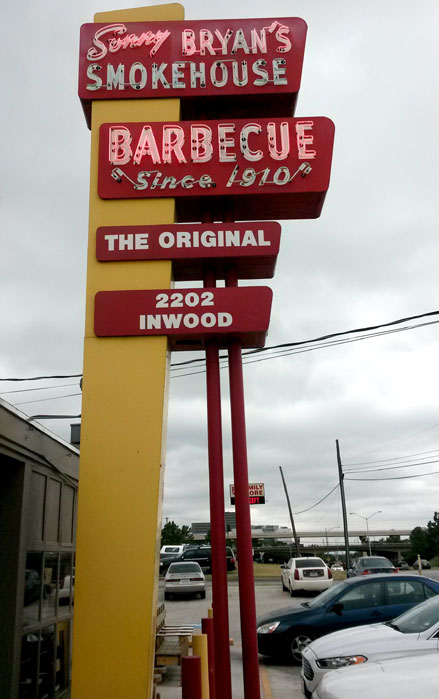 The legendary sign at the original Sonny Bryan's. photo by Tim Davis
And the atmosphere was unique. No where else does the seating include old school desks. And there were traditional tables as well. I enjoyed it all while the big jets roared overhead. I was torn. Should I hum Haggard's "Silver Wings," Steve Miller Band's "Jet Airliner," or Gary Allan's "Watching Airplanes?"
School desk seating at Sonny Bryan's. photo by Tim Davis
Making my way back to traveling south on Central Expressway, I headed east on the 15th Street exit in Plano to my last stop, the Lockhart Smokehouse. As the name implies, this barbecue haven sets out to reproduce the Central Texas experience where your meats are served on butcher paper with white bread and plastic utensils. And it does a pretty good job of it, except for the fact that you do not order at a counter standing close to the hot pits. Said experience is no doubt not allowed in a recently-opened joint in Plano due to safety regulations, building codes, building limitations . . . . who knows?
The smoked pork chop, a staple at Kreuz Market in Lockhart, was tender and delicious. Since it's a bone-in chop, you actually get a chop and rib together. And the sausage rings are smoky delicious. But don't expect the smooth texture like you get from the sausage served at Sonny Bryan's. This is the Central Texas variety which is a coarser texture and a little spicier.
In short, if you want the Central Texas barbecue experience but can't travel that far anytime soon, you might want to give the Lockhart Smokehouse in Plano a try.
BBQ: part 1 http://www.ntxe-news.com/artman/publish/article_90727.shtml
Tim Davis teaches at Bonham High School.