Local News
Red River Regional Hospital Auxiliary fundraiser Aug. 12-13
Aug 13, 2014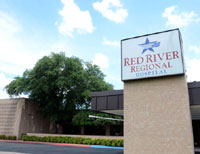 Bonham -- Red River Regional Hospital Auxiliary has a great fundraiser coming up just in time to buy fantastic Christmas presents for every member of your family. The prices are fantastic.
The RRRH Auxiliary is having a fundraiser Tuesday, August 12 from 7:00 a.m. to 6:00 p.m. and Wednesday, August 13 from 7:am to 3:00 pm. The location of the sale is the main lobby and cafeteria of the hospital.
They have 12 beautiful linen colors, 1500 thread count, complete sets, deep pockets, non-wrinkle, do not shrink, fade, or pill/bead.
Fabulous prices: $25.00 Twin size $35.00 Full size $40.00 Queen size

$45.00 for King size
Proceeds benefit the Red River Regional Hospital Auxiliary.