Front Page
Fannin County Commissioners Court approves proposed budget, county tax rate
Aug 4, 2014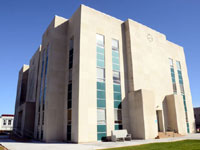 Bonham, Texas -- In a special called meeting Thursday, July 31, 2014, Fannin County Commissioners Court approved a proposed budget and county tax rate for the coming fiscal year. Commissioners were unable to lower the tax rate for the fourth consecutive year, but a resolute and unified court refused to give ground, either. As a result, the tax rate will continue to be .5950 and the budget comes in at $10,517.91.03.

In another rancorous budget debate, rising jail costs due to a less expeditious flow of inmates were discussed at length, with differing perspectives as to the cause.

Fannin County Judge Spanky Carter said that, with the limited number of trials being held, the county legal staff should be able to prevent extended pre-trial jail time for low-level, non-violent criminals. As an example, Judge Carter referred to one inmate that sat behind bars for 187 days before trial on a Class B Misdemeanor.

Much of the discussion centered on salaries in the Office of Criminal District Attorney Richard Glaser.

Mr. Glaser requested salaries of $95,017.50 for his two top assistants and raises of slightly more than 18% for three other employees.

"What do we tell other county employees if some of your people get 18% raises?" asked Fannin County Pct. 4 Commissioner Dean Lackey.

"What did you tell them when the deputies got raises from $23,000 to $30,000?" Glaser asked Lackey.

One of the provisions of last year's budget that everyone seemed to agree on at the time called for raising the starting pay of Fannin County Sheriff's Deputies from just over $23,000 to slightly more than $30,000.

In the end, commissioners upped the district attorney's budget slightly more that $36,000 over last year's total to $740,696.02, but that is a far cry from the slightly more than $1 million Glaser was requesting. Commissioners also nixed a proposal by the DA that would have added two more attorneys to Glaser's staff. Fannin County already has five attorneys in the DA's office.

Commissioners approved a 3% raise for everyone in Glaser's office -- the same percentage increase that almost every county employee will receive. The two top assistants in the DA's office will be paid $88,441.35 in the coming year.