Entertainment
Memories of Elvis Tribute in Sherman's Kidd-Key Auditorium
Aug 18, 2014
Sherman, Texas -- Enjoy an exciting afternoon of "both worlds of Elvis…gospel and greatest hits" on August 24, 2014, at 4:00 pm, as Kraig Parker, world renown tribute artist, and his Royal Tribute Band perform Memories of Elvis in Sherman's historic Kidd-Key Auditorium.
No one has it all, the looks, voice, moves and charisma of Elvis like world renowned tribute artist Kraig Parker. As seen by sold out audiences in Las Vegas, London, Paris, and a local favorite at Winstar Casino, critics claim, "This is as good as it gets!". This incredible show will leave you "all shook up" and screaming for more! Parker will astound you with his performance, second only to the King of Rock 'n Roll. Managed by Charles Stone, Elvis' 1970's tour producer, Kraig and his Royal Tribute band hit the stage rockin' and it's a non-stop, world class electric two hour show. For millions of Presley fans who know there will never be another like him, Parker has left packed audiences around the world stunned, thrilled and hungry for more. MEMORIES OF ELVIS delivers the absolute best of Elvis Presley, the golden years of Vegas and the music Elvis loved most, his gospel favorites. Elvis has not left the building!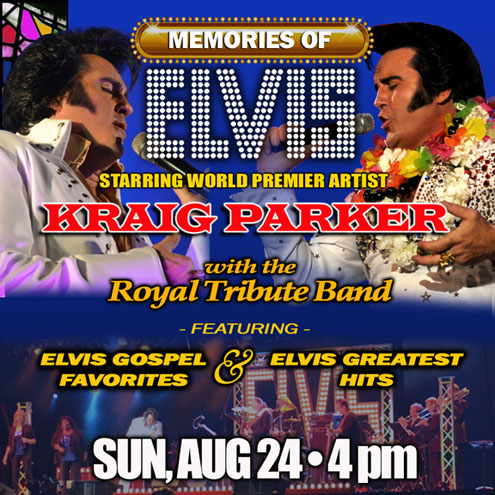 For ticket information, call 1-800-838-3006 or purchase online at www.BrownPaperTickets.com and search on "Kraig Parker." Premiere seats are $25 and all other reserved seats are $20. The Kidd-Key Auditorium is located at 400 N. Elm Street in Sherman, Texas. Audio and video clips are available online at www.thekinglives.com.
Kidd-Key Auditorium has been a part of the Sherman community since the late 1930s, when it began as a stage for Kidd-Key Women's College. The college closed in 1935 and a few years later, the City of Sherman purchased the current property. In 1938, it was designated as a municipal auditorium. Some 75 years later, it continues to be a beacon of cultural and performing arts in Sherman. Today, Kidd-Key Auditorium hosts cultural performances, such as the Sherman Symphony Orchestra and Nutcracker ballet, as well as concerts, plays and other events throughout the year. www.shermantx.org