Front Page
Fannin County Commissioners Court to consider proposed budget for FY 2014 - 2015, proposed tax rate for FY 2014 - 2014
Jul 31, 2014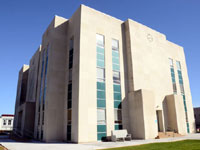 Bonham -- As Fannin County Commissioners Court prepares to consider the proposed budget for FY 2014 - 2015 and the proposed tax rate for FY 2014 - 2015 at a special meeting July 31, the court will no doubt be trying to build on its notable fiscal success of the past three years.

Fannin County Commissioners Court has managed to steadily lower the county tax rate for three consecutive years, while also paying off the county's debt five years early and making good on a promise to give residents an Extension Office that compares favorably to similar facilities in any county in Texas.

Going into Thursday's special meeting, the current tax rate is .5950, which is the lowest county tax rate since 2006.

At the county's Annual Financial Report delivered by auditor Lewis Crain of Rutledge, Crain & Company, Mr. Crain was complimentary of the commissioners court's conservative fiscal approach.

"You have had another very good year," Crain told Fannin County Commissioners Court.

According to Crain, the county took in almost $630,000 more in revenue than budgeted, while limiting expenditures to $980,000 less than projected, resulting in a net gain of slightly more than $1.6 million in the county coffer.

Crain seemed particularly impressed by Fannin County Commissioners Court's decision to cut a $1,103,782.82 check in October 2013 that paid off General Obligation Bonds issued in 1998 to construct the county jail on County Road 4200 south of Bonham. Fannin County was set to pay between $314,000 and $323,000 annually through 2018 as debt service on the General Obligation Bonds. The bonds were originally scheduled to be paid off in 2018; by paying the bonds off five years early, commissioners court saved local taxpayers $209,042 in interest that would have been doled out over the remainder of the 20-year term.

"I want to compliment the court on that decision," remarked Crain. "That was a very astute thing to do because I think interest rates are likely to rise in the next couple of years. That was a very good financial move and it saved a considerable amount of interest."