Front Page
In search of great barbecue
Jul 29, 2014
In a famous Andy Griffith show, the excellent Briscoe Darling indicates his love for music by telling Sheriff Taylor: "If you've got time to breathe, you've got time for music." I feel much the same way about a favorite passion of mine. To slightly alter Darling's line, if you've got time to breathe, you've got time for barbecue. And my love for the slow-smoked meats has taken me this summer to key points in Oklahoma and Texas. As Bob Phillips says, why don't you hop in and ride along.
Anyone familiar with me knows that I swear by the high quality of Head Country dry rub and barbecue sauce when running my smoker at home. Seasoning meats with the rub before putting them on the smoker means that the end product will have a great deal more flavor than unseasoned smoked meats. And their sauce is an excellent product that isn't too tangy or too sweet, a fitting compliment to a finished piece of smoked beef, pork or chicken.
To learn a little more about this family-owned operation, I trekked up to Ponca City, located in the northern part of the Sooner State and headquarters of the Head Country operation, roughly twenty-five miles south of the Kansas border.
History notes that the story started when Donovan "Bud" Head was a cook on a naval destroyer during World War II. It was there that he developed his now legendary barbecue sauce recipe. After leaving the military and returning home to northern Oklahoma, Donovan continued making the sauce for friends and family. In 1977 the recipe was sold to a nephew, and commercial production began. It's now the top selling bottled sauce in Oklahoma and has made serious inroads into neighboring states.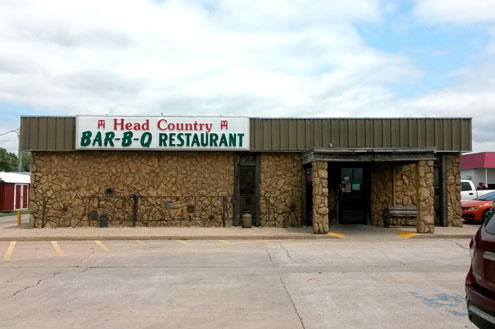 In addition to their production facility, the Head Country folks also run a barbecue restaurant in Ponca City. It's a relatively small and unpretentious building decked out in standard western decor. Once inside, there's no mistaking it's a barbecue joint. The smell of smoke hits you as soon as you enter. And the food doesn't disappoint. Everything from brisket to ribs to half chickens are seasoned and slow-smoked to a delicious and tender state. And your typical side dishes are impressive as well.
Quite a bit farther south and much closer to home is Main Street Barbecue in Durant. A relative newcomer to the barbecue scene, meaning it opened its doors within the last twenty years, Main Street is an old bank building that has been converted to a top-notch eatery.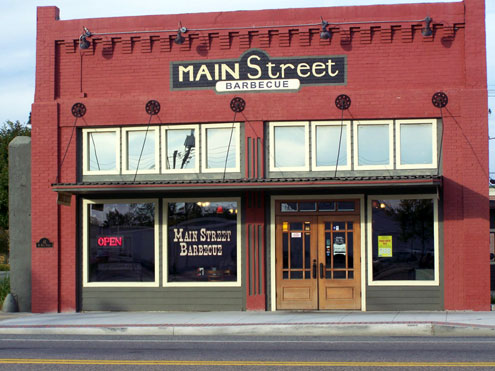 While the owners are youngsters, they have accelerated the learning curve and cook delicious smoked meats like aged veterans. And while you can get standard, delicious sides such as pinto beans, potato salad and coleslaw, they also feature more variety with awesome corn fritters , waffle fries and deep-fried, battered green beans that come with ranch dipping sauce.
Once south of the Rio Rojo again, my trek took me to Central Texas, a region just east of the Austin area to legendary barbecue restaurants that have been highly touted in print, on television, the internet, etc. Basically all of these joints started out in the late 1800s or early 1900s as combination grocery stores/meat markets. Since refrigeration technology was in it's infancy and imperfect, there tended to be more spoilage of fresh meats, which, of course, meant lost sales and profits. In order to curb such losses, aged meats were slow-smoked to tender perfection in giant brick pits and sold as barbecue. One market after another started cutting back on their grocery business and further emphasized their barbecue side until they became known largely as barbecue restaurants.
While the restaurants in Oklahoma served their offerings on plates and provided silverware, sauce, etc, the famous barbecue joints of Central Texas perhaps leave you feeling as if you have stepped back to a point in time when food was served in a more rustic fashion. Don't shy away from the seemingly less civilized process. Embrace it in all of its glory and enjoy the experience. As my mother used to say, get it all over yourself.
In these Lone Star legends you typically start out by ordering your favorite smoked meats, including brisket, ribs, sausage, chicken, pork loin, ad infinitum, from a counter in a very warm room that houses the brick pits where the meat is smoked, cooked and kept warm. Plates, knives, forks? Perish the thought! Your meat is served on a giant piece of butcher paper with your choice of crackers or white bread to go with it.
From there you step into an air-conditioned dining room to finish your ordering process with a choice of standard sides, drink, dessert and lots of napkins. Sauce? As with silverware, perish the thought. It is argued that the meat has plenty of flavor thus eliminating the need for sauce. Now you sit down and eat with your hands, thus relishing in the ultimate barbecue experience. (For the squeamish amongst you, plastic ware is provided for sides and dessert. I mean, let's face it, we are not animals.)
Now that I have described the Central Texas process, let's visit a few of the legendary joints. We're gonna have a good time, I can feel it all over more than anywhere else.
I decided to go to my farthest point south and start making my way back north. So I started at The City Market in Luling, appropriately located on Davis Street.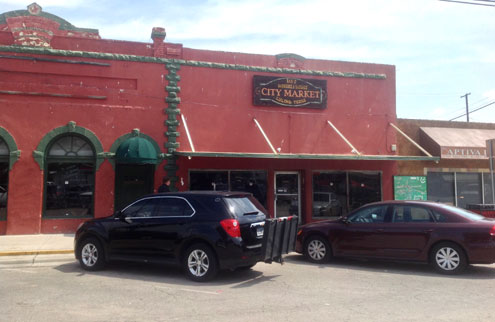 City Market got its start in roughly 1958 and has been widely praised in publications such as Southern Living and Texas Monthly. It was here that I got my initiation into the process of ordering your meats first while standing next to hot pits fueled by post oak wood. I literally had to step out of the way while the pit master stoked the fire right next to me. Since meats are sold by the pound, I wasn't frowned on when I asked for only one each of the following: slice of brisket, a pork rib and a sausage ring. The experience lived up to my expectations. And locals apparently agree. Even though it was just a little after 10:30, the place was quickly filling up with folks headed to tables with their butcher paper-wrapped smoky delights.
From Luling I headed north to what is considered the Barbecue Capitol of Texas, Lockhart. It's home to what some call the Holy Trinity of Texas BBQ - Kreuz Market, Smitty's and Black's Barbecue. While I took in the first two joints named, I merely peaked in on Black's lest I go on barbecue overload. Not that I am slighting the place. Many say the food there is awesome. It's just that they do a buffet line and serve on plates, and I was staying true to the butcher paper routine. Plus it gives me a reason to return to Lockhart when the urge hits.
Kreuz meat market and grocery store was started in 1900 by Charles Kreuz, Sr. Eventually the grocery side gave way to the smoked meat side, and by the 1920s the barbecue business was taking off. In 1948, the business was sold to a veteran employee, Edgar Schmidt. In 1984, Schmidt sold the thriving restaurant to his sons, Rick and Don.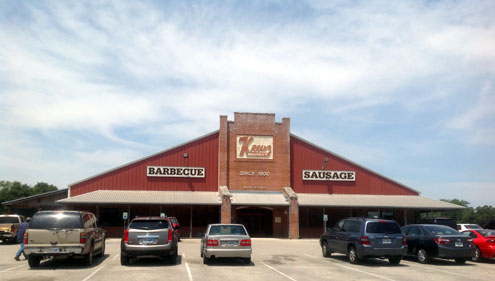 In 1997 Don Schmidt retired leaving the operations to Rick. Roughly that same year Rick had a disagreement with the building owner, his sister, Nina Sells, over rent and proposed renovations. While you would think something as awesome and heavenly as tender, delicious slow-smoked meats would only foster family togetherness, such is not necessarily the case. Trust me, this I know.
By 1999 Rick had moved to a new, much larger building farther north on Colorado Street. The new Kreuz Market houses eight, sixteen-foot-long brick pits that go through 80 to 100 briskets, 100 racks of pork ribs and 6 barrels of sausage on a typical Saturday. To call it impressive is a serious understatement. The food and atmosphere were a true experience.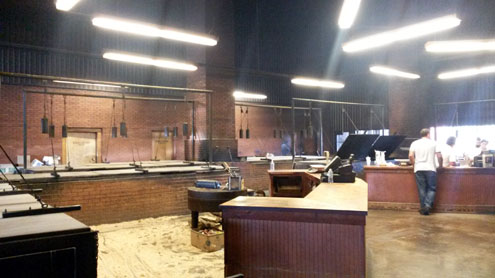 So what became of the old, original Kreuz Market? It became known as Smitty's, and is still doing an impressive business of its own.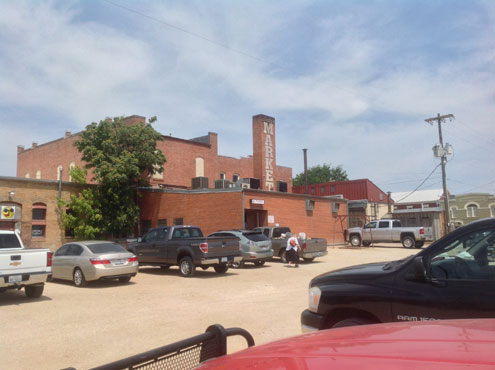 As I watched locals going into Smitty's, I did not realize that they were using the rear entrance. Therefore, I encountered the very warm pit room first. As a result, I walked right by a hot open fire that feeds the pits.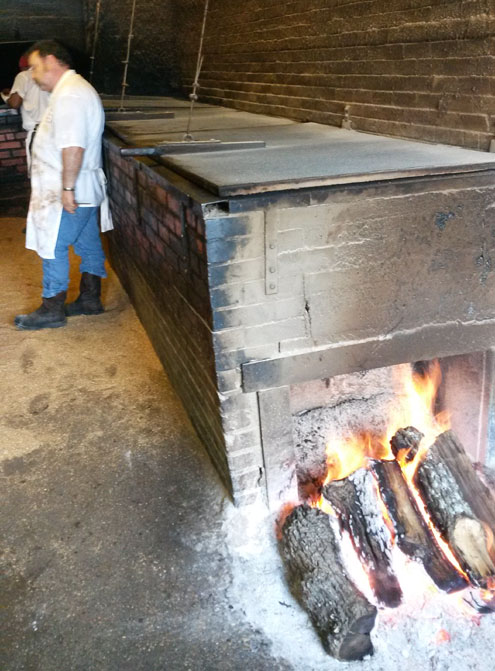 No closed firebox here; the heat and flames were right in the open. As I wondered how such an open fire doesn't appear to raise serious liability issues, it dawned on me that entering from the front of the restaurant, facing Commerce Street, means you don't get close to the fire. Lest I appear totally ignorant, I kept this minor epiphany to myself.
As with the other joints, the food and atmosphere lived up to expectations; disappointment was nowhere to be seen.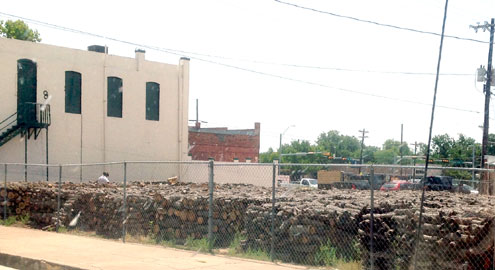 From Lockhart I drove roughly sixty miles to Taylor. Driving slow allowed my appetite to return. So I took in my last stop for the day, Louie Mueller's Barbecue. It is no exaggeration to say that Mueller's has seen a lot of publicity as of late. This rustic looking icon, started in 1959, has been featured on Diners, Drive-Ins & Dives and the Cooking Channel's Man, Fire & Food. It has also been a recipient of the highly-coveted James Beard Foundation Award. It is now run by third-generation pit master, Wayne Mueller.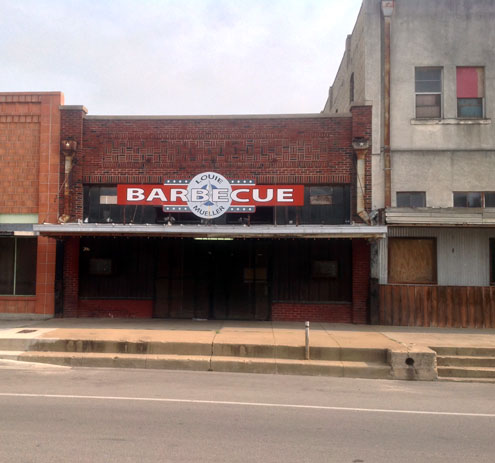 While you are not allowed quite as close to the pits as the previous places, they make up for it by skipping air conditioning. But not to worry, there are lots of large windows, all of which were open on this hot July 22nd.
And the food? Once again, disappointment was nowhere close. The sausage was spicy and delicious, the pork rib came clean off the bone and had an intense smoky flavor, and the black crusted brisket melted in my mouth. I seriously paused a moment to let it all soak in.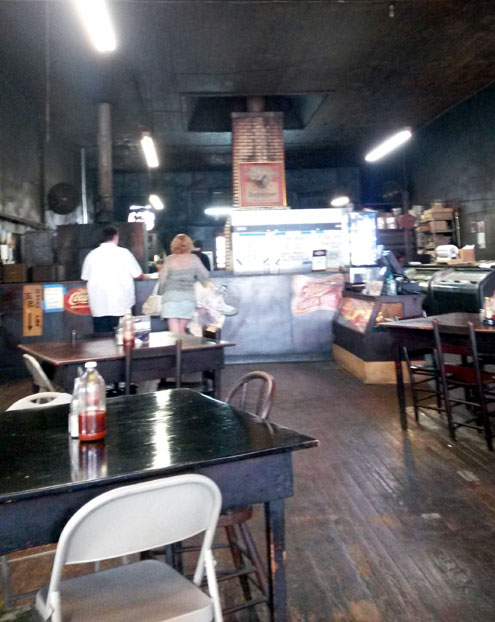 After Taylor it was time to return to Fannin County. My arteries could take no more; several days of eating salad lie ahead. But it was well worth it. It was much more than just good food. It was: stepping back in time and enjoying legendary barbecue joints that have fed millions of people over many decades; enjoying ordering from the pit rooms and being served on butcher paper. It was, in other words, a blending of two of my favorite passions - barbecue and history. I enjoyed every little second of it. As Hank Williams, Jr. stated in his song "Country State of Mind:" if the sun don't come up tomorrow, people I have had a good time.
Tim Davis teaches at Bonham High School.