Front Page
Kathrynís Texas Kitchen
Jul 27, 2014
This summer I have been making weekly visits to the Dallas Farmersí Market which I dearly love and support all year as often as I can. The market is currently undergoing a renovation by the City of Dallas. Their motives still are under question by many citizens. This renovation involves all the farmers and merchants being grouped closely together under one building instead of being spread apart in several buildings. This means customers donít have to walk as far to check out every one of the farmers, but it is much more crowded than normal on the weekends.
Parking has also become worse as there are fewer parking spaces. Iím not sure when this renovation is supposed to be completed but I will let you know as soon as I know. Hopefully SOON for us weekly customers.
If you are one of the fortunate ones to have a summer garden in North Texas or access to a farmersí market, hereís a recipe I know you will like.
Marinated Summer Vegetables
Recipe adapted from Bon Appťtit, June 2013
6 servings
Ingredients
3 summer squash or zucchini, about 1 lb, sliced on the diagonal Ĺ inch thick
3 orange, red, or yellow bell peppers cut into 1-inch strips
4 TB extra virgin olive oil, divided use
Kosher salt and fresh ground black pepper
2 garlic cloves
2 TB sherry or red wine vinegar
4 sprigs fresh oregano
Other Items Needed
Measuring cups and spoons
Cutting board
Chefís knife
2 baking sheets
Pot holders
Olive oil
Salt and black pepper
Tongs
Paring knife
Large bowl
Whisk
Aluminum foil
Instructions
Place racks in upper and lower thirds of oven. Preheat oven to 475 degrees.
Place squash and peppers on separate baking sheets. Drizzle each sheet of vegetables with 1 TB oil and season with salt and pepper. Toss to coat. Spread out in a single layer, turning peppers skin side up.
Roast peppers on upper rack and squash on lower rack, turning squash once until tender, 15 to 20 minutes. Let cool slightly. Remove skins from peppers.
Whisk garlic, vinegar, and remaining 3 TB oil in a large bowl. Season with salt and pepper. Add vegetables, oregano, and toss to coat. Cover and let sit at least 1 hour.
DO AHEAD: Vegetables can be made 3 days ahead. Cover and chill. Bring to room temperature before serving.
Kathrynís Texas Kitchen returns to Julia Childís kitchen.
Until next timeÖ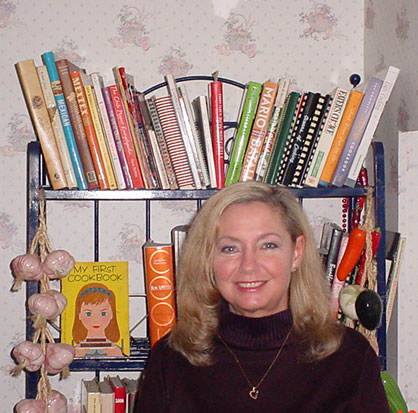 Bon appťtit!