Entertainment
McKinney Repertory Theatre presents The Belle of West Texas
Aug 9, 2014
McKinney, Texas -- Don't miss this final performance of McKinney Repertory Theatre's (MRT) annual melodrama, The Belle of West Texas, slated for Sunday, August 10 in the Courtroom Theatre at the McKinney Performing Arts Center (MPAC).
The August 8-9 performances are at 8:00 p.m. and the matinee is at 2:30 p.m. August 10. Tickets are $17 – Adults, $14 – Students/Seniors and $12 – Children.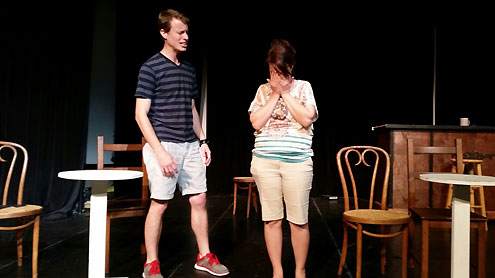 Daniel Frank and Nicole Holbert rehearse.
The Belle of West Texas centers around the Holiday Inn in Oil Well, Texas run by poor Lizzie Holiday (Stephanie Kelly) whose sweet, innocent daughter, Belle (Morgan Bond), is pursued by villain Gerald Snively (Joseph Shimek) when he learns of a secret inheritance. Enter the handsome hero, Eddie Allswell (Daniel Frank), and the sparks fly. Deception and heroics ensue as the villain's sidekick, Melinda Mooch (Nicole Holbert), gets involved in the action along with Sheriff Bob White (Brett Femrite), saloon entertainers Fifi Songbird (Kasey Bush) and Rufus Hands (Alex Ammons) and Lawyer Pitts (J.R. DeLaney).
Director Leslie Austin has assembled a cast of local favorites as well as a few new faces in this popcorn throwin', booin' and hissin', old-fashioned comedy. Austin is using her skilled directorial hand to add some extra fun and plenty of audience interaction. Producer is the well-known MRT veteran, Jacob Correll.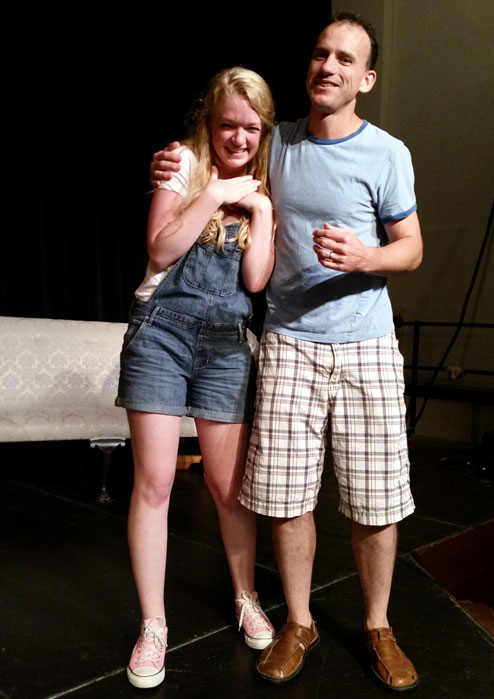 Morgan Bond and Joe Shimek rehearse for The Belle of West Texas.
For tickets, visit www.mckinneyperformingartscenter.org or call 214-544-4630. For more information on McKinney Repertory Theatre and their upcoming season, visit www.mckinneyrep.org. Season tickets are available at a discount on the MPAC website and at the box office before performances.