Local News
McKinney hosts community National Night Out party at Finch Park Aug. 5
Aug 4, 2014
Gathering aimed at neighborhoods
without a homeowner's association
McKINNEY, Texas (July 23, 2014) – McKinney will host National Night Out on Tuesday, Aug. 5. National Night Out serves to heighten crime and drug prevention awareness, generate support and participation in local anti-crime efforts, strengthen police-community relations and send a message to criminals that neighborhoods are organized and fighting back.
McKinney -- The Housing and Community Development Department will host a National Night Out party in Finch Park, 301 W. Standifer St. for McKinney residents who do not have a homeowner association or organized block party in their neighborhood. The event will be held from 7:00 p.m.–8:30 p.m.
The event will include activities and a live remote broadcast from 97.5 KLAK-FM. Free transportation shuttle provided by TAPS will service attendees from Old Settlers Park to Finch Park at 6:45 p.m. with a return to Old Settlers Park at 8:45 p.m.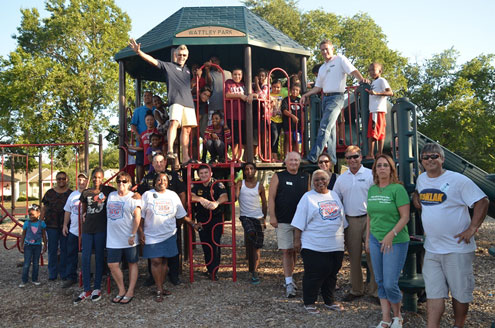 For more information about the National Night Out party at Finch Park, please contact the Housing and Community Development Department at 972-547-7572. To learn more about McKinney National Night Out visit here.