Lifestyles
Willow Wild Cemetery Association sets fundraising goal
Aug 10, 2014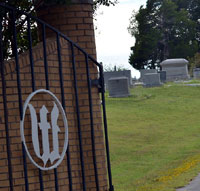 Bonham -- Friends of Willow Wild and Bonham Purple Warriors young and older! Now that the Willow Wild Cemetery Association has been in possession of the cemetery for a while, our budget needs are coming into clearer focus. It takes about $32,000 a year to maintain Willow Wild the way we wanted it to look, the way we promised you we would. The biggest cost is mowing, but there are water bills, restoration costs from vandalism, equipment maintenance, fence repair, storm clean up - the list goes on and on.

We need donations. No amount is too small, and we provide tax receipts. Our goal is to raise $10,000 by Labor Day.

Would you like to donate but do not know how? You can mail donations to:

Willow Wild Cemetery Association, Inc.

P. O. Box 159

Bonham, Texas 75418

You can visit our webpage at www.WillowWild.org for a really easy donation "click" or leave us a public or private message if you need help. You can also join our dialogue on FaceBook at Concerned Friends of Willow Wild. We hope you come to visit. The cemetery is beautiful. Our collective legacy is in good hands. Thanks for all your support.