Local News
'Snakes of Hagerman National Wildlife Refuge' topic July 27
Jul 27, 2014
Snakes of Hagerman National Wildlife Refuge will be the topic for a special presentation on Sunday afternoon, July 27, at 3:00. pm. U.S. Fish & Wildlife Service Intern Aaron Blount will speak on identifying snakes at the Refuge, their importance to the local ecology, and safe handling for removal. Blount will also display some of his pet snakes.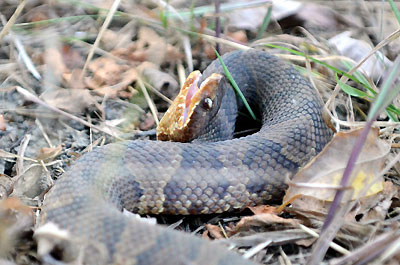 photo by Allen Rich
Blount is an Air Force veteran who served two tours in Afghanistan and is now a senior at New Mexico State, majoring in wildlife biology. While at the Refuge, Aaron has been working with Dr. Wayne Meyer on the Grassland Birds Research Project, and with Texas Parks and Wildlife on banding doves. Blountís internship is through the federal Pathways program, which provides paid opportunities for students to explore government careers while completing their education.
The free program will be suitable for the general public and will be held in the Multi-purpose Meeting Room in the Visitor Center at the Refuge. No reservations are needed. Hagerman NWR is located at 6465 Refuge Road, Sherman, on the southern tip of the Big Mineral arm of Lake Texoma. For more information, contact the Refuge, 903 786 2826.