Lifestyles
12th Annual Park Place Dealerships - Texas Rangers Triple Play raises record $725,000
Jul 31, 2014
ARLINGTON -- Some kids never grow up. And, in the case of the Texas Rangers baseball players, score that as a raucous good time for fans at the Park Place Dealerships Texas Rangers Triple Play, the baseball club's largest fundraiser of the year. A sell out crowd of more than 600 fans attended the black-tie affair at the Hilton Anatole recently and raised a record $725,000 for kids in the Dallas-Fort Worth area.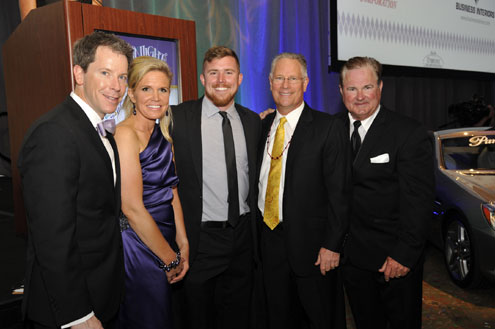 Rob Sumner, marketing director, Park Place Dealerships; Karin Morris, executive director, Texas Rangers Baseball Foundation; Robbie Ross, Texas Rangers pitcher; Gary Venner, President of Park Place Dealerships; and Jim Sundberg, President of Texas Rangers Baseball Foundation photo by David Alvey
The Mardi Gras-themed Moonlight Masquerade filled the room with live jazz music featuring the Rebirth Brass Band, delicious New Orleans cuisine, cocktails and laughter as the Texas Rangers entertained their fans. The Park Place Dealerships Texas Rangers Triple Play event has raised more than $2.5 million for the Texas Rangers Baseball Foundation over the past dozen years.

"As a sponsor and a fan, this event is always one of my favorites," said Rob Sumner, Park Place Dealerships Director of Marketing. "Fans get personal access to their favorite players and coaches. The auction items are first class. And the Texas Rangers Baseball Foundation is able to help so many children in to our community."

The entire Texas Rangers roster was present, signing autographs and mingling with fans before and after dinner. Manager Ron Washington and coaches Mike Maddux, Dave Bales, Tim Bogar, Dave Magadan, Kenji Nimura, Andy Hawkins, Bengie Molina, Bobby Jones and Gary Pettis joined the players. Executives Rob Matwick, John Blake, Jon Daniels, Paige Farragut, Kellie Fischer, Joe Januszewski, Thad Levine, Jay Miller and Jim Sundberg were present as well as Rangers alumni Tobi Harrah, Dave Hostetler, Mark McLemore and Pete O'Brien.
The players proved once again that they are just as competitive off the field as they are on it. Eric Nadel hosted the Game Show Fielders Feud, where the infielders team of Elvis Andrus, J.P. Arencibia, Adian Beltre, and Robinson Chirinos defeated the outfielders team of Shin-Soo Choo, Leonys Martin, Mitch Moreland, and Alex Rios.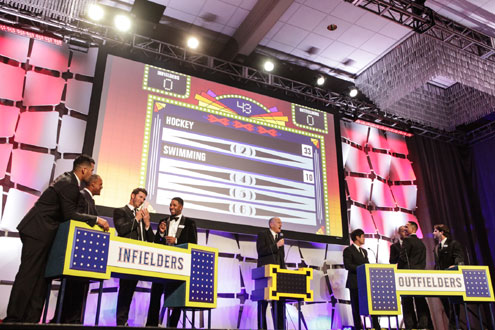 Texas Rangers outfielders compete with the Infielders in Fielders Feud. photo by Rhiannon Lee
In the Minute to Win It game, the duo of Robbie Ross Jr./Joakim Soria prevailed over the teams of Neal Cotts/Jason Frasor and Colby Lewis/Shawn Tolleson in frivolous but very competitive games that involved stacking chocolate cupcakes on their teammate's forehead and placing a lampshade on one's head with a fishing pole while blindfolded.
A fan favorite was the annual tradition of having the Rangers' rookies dress up and perform on stage. The colorful rookies, dressed in drag and hot pants, sang and danced to the popular tune, "Call Me Maybe." No one enjoyed it more than Rangers shortstop Elvis Andrus, who sat on stage while the "ladies" danced around and serenaded him.
***image4:center**
The largest bid during the Live Auction was for a pair of trips to the 2014 National Baseball Hall of Fame Induction in Cooperstown, New York in July raising $32,000 for the foundation. Other live auction items included a Big League Party for 14 kids, a trip to Seattle with Jim Sundberg on the Texas Rangers plane and a dove hunt in Argentina.

"The Park Place Dealerships Texas Rangers Triple Play is a continued success thanks in large part to our generous sponsors and our highly entertaining players," said Karin Morris, Executive Director of the Texas Rangers Baseball Foundation. "The combination of the two brought in record funds this year. These funds will go directly to support kids in our community through many programs including the RBI program (Reviving Baseball in Inner Cities), our 'just keep livin' after-school wellness programs, and providing more grants through the Foundation's baseball and softball grant programs."

The Texas Rangers Baseball Foundation is dedicated to improving the lives of children in need within our community and provides funding for youth in crisis, youth health initiatives, youth baseball programs, and youth education. Celebrating its 23nd year, the Foundation has given back more than $14 million to help children in need.

Ken Schnitzer founded Park Place Dealerships in 1987 with a single Mercedes-Benz dealership on Oak Lawn. Today, Park Place Dealerships employs nearly 1,700 people and operates 16 full-service dealerships representing luxury brands including Lexus, Mercedes-Benz, Porsche, Infiniti, Volvo, smart, Jaguar, Lotus, Rolls-Royce, Bentley, McLaren, and Maserati. For more information about Park Place Dealerships and Maserati, visit www.ParkPlace.com.