Local News
Fannin Partners in Education to explore 'Secrets of The Bahamas' July 30
Jul 29, 2014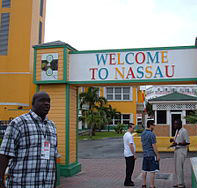 Bonham -- Delano Smith, Family Self-Sufficiency Coordinator and native Bahamian, will present 'Secrets of The Bahamas'…at 2:00 p.m. on Wednesday, July 30, at the monthly Fannin Partners in Education (F-PIE) presentation. The program will be held at the TEAM Center, which is located at 806 West 16th Street in Bonham. The event is free and open to the public, and complimentary coffee and dessert will be provided.

Smith will explore different aspects of the Bahamian lifestyle, such as history, culture, tourism, and the main industries (in terms of revenue). Attendees will gain an insightful perspective of The Bahamas that stems beyond the scope of tourism. Is The Bahamas solely a tourism hotspot? What else does this country offer? Is The Bahamas one island or a chain of islands and cays? How did The Bahamas gain its independence?

"When people think of The Bahamas, one of the first things that come to mind is relaxing on a beach and enjoying a tropical drink," says Smith. "This presentation is geared towards giving a more complete illustration of the country."

The presentation is brought to you by Fannin Partners in Education, which is a cooperation of local agencies including Home Hospice of Grayson, Cooke, and Fannin Counties, Area Agency on Aging (TCOG), Clyde W. Cosper Texas State Veterans Home, AgriLife Extension office, and Texoma Housing Partners(TCOG). Please make plans to attend this informative presentation on Wednesday, July 30.