Lifestyles
Eisenhower Quilt on display at Sam Rayburn House Museum
Jul 23, 2014
Quilts from the collection of the Sam Rayburn House Museum in a variety of colors, patterns and ages will be on display during the annual Quilt Hop. The event will take place on Friday, July 25 from 1:00 p.m. - 4:30 p.m. and Saturday, July 26 from 9:00 - 4:30 p.m.
The Quilt Hop has been an annual event since 2010 and will include a display of historic quilts in the house museum, free, quilt-themed tours and refreshments. A highly prized quilt, pieced together by Dwight Eisenhower and his brother and sewn by their mother around 1910,will be on display during the event. The quilt is on loan from the Eisenhower Birthplace State Historic Site in Denison.
The Eisenhower Birthplace in Denison was the place of birth of our nation's 34th President, Dwight D. Eisenhower. The family moved to the area from Kansas in order for Eisenhower's father, David to take a job with the railroad. The family rented a small, wood frame house near the Missouri, Kansas and Texas Railroad yards where David worked. Eisenhower was born there on October 14, 1890. The future President only lived in the city until he was about 18 months old. Then the family returned to Kansas.
Eisenhower's mother, Ida, was accomplished at all domestic arts of the time; cooking, cleaning, gardening and quilting. She taught all seven of her sons to perform these tasks as well. She even taught the boys how to cut and piece together a quilt. The quilt pattern pieced together by the future president is called "tumbling blocks." The design of the quilt appears to be three dimensional cube shapes created by multicolor parallelogram shapes. The quilt blocks are framed by a purple gingham border.
In 1947 General Dwight Eisenhower personally selected the quilt to be given to the newly created Eisenhower birthplace foundation. The quilt was presented to Miss Jennie Jackson, who at the time was confined to her home recovering from a hip fracture. Miss Jackson was one of only a few citizens in Denison who recalled the birth of the future President.
Due to its historic association and fragile nature, the quilt is displayed on a limited basis at the Eisenhower Birthplace State Historic Site in Denison. Make plans now to see this important artifact during the Quilt Hop at the Sam Rayburn House Museum on July 25 and 26.
The Sam Rayburn House Museum tells the real story of Sam Rayburn, one of the most powerful and influential politicians of the 20th century, in his authentic 1916 home. Preserved as a period time capsule, the two-story home contains all original Rayburn furnishings.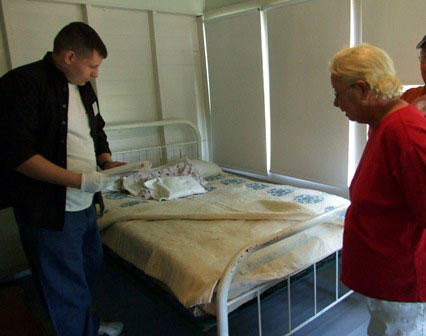 Volunteer Kevin Wilson gives a tour during the 2010 Quilt Hop at the Sam Rayburn House Museum.
The Sam Rayburn House Museum is one of 20 historic attractions operated by the Texas Historical Commission. For more information visit www.visitsamrayburnhouse.com.