Lifestyles
Quilt Hop time has arrived
Jul 26, 2014
Bonham -- The 2014 Bonham Quilt Hop began Friday, July 25 and continues Saturday, July 26, 9:00 a.m. to 4:00 p.m. Quilts will be on display at eight different locations around Bonham. Free TAPS shuttle bus service will be available to all location on Saturday only.
Guests are encouraged to pick up a Patchwork punch card, which lists all of the Quilt Hop Stops on a city map. Making a stop at all eight locations qualifies visitors to enter into a drawing for quilt-related door prizes. In addition, the Patchwork card will have a schedule of the demonstrations held at the Bonham Civic Center (Armory). The Patchwork card also entitles you to a free drink at one of our many participating restaurants during the Quilt Hop.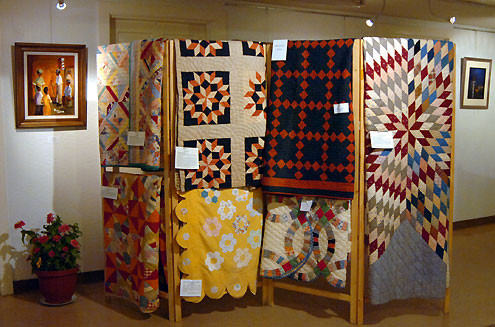 Quilts on display at Creative Arts Center during last year's Quilt Hop.
Each Quilt Hop stop will showcase a different display. The Bonham Visitor Information Center will feature quilts fashioned from quilt blocks made by Japanese quiltmakers in response to the September 11th terrorist attacks. The Creative Arts Center will feature a traveling Challenge Quilt Exhibit from the National Quilt Museum in Paducah. Feed sack quilts will be on display at the Fannin County Historical Commission, as well as a few modern creations. The Bonham Public Library will also focus on historic quilts and fabrics.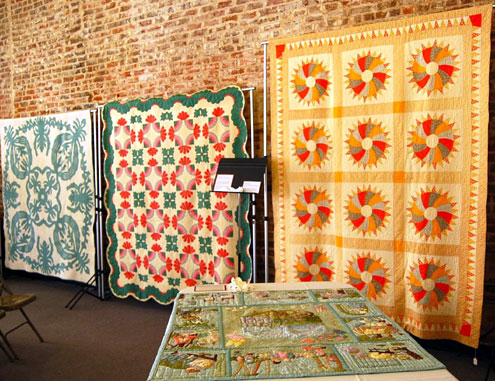 Quilts on display last year at Bonham Visitors Center.
The Fannin County Museum of History exhibit will include historic friendship quilts from the area, as well as a quilt from the Sam Rayburn House Museum. The Bonham Senior Center will showcase work of their quilting group, as well as demonstrating piecing methods and doing hand quilting throughout the day. Be sure to ask about prices for to have your own quilt top hand pieced.
The Sam Rayburn Library exhibit, "Seeing Double," showcases pairs of quilts based on the same pattern but constructed years apart, highlighting the variety and creativity in quilting. An opening reception hosted by the Friends of Sam Rayburn will held at the Sam Rayburn Library Friday evening from 5-7 p.m.
The Bonham Civic Center will have pieces from local quilters on display. In addition, the Civic Center is the place to shop our vendors and see quilting demonstrations on new techniques tools and quilt projects. There will also be multiple times to get in on a game of Fat Quarter Bingo. Bring your own Fat Quarter or pick one up from a vendor at the Civic Center, throw it in the basket and if you Bingo, then you win all the Fat Quarters.
Everyone is encouraged to come be a part of this great quilting event. If you have a quilt you'd like to display, we have a place for it to be seen. The Bonham Visitor Information Center located at 327 N Main will be accepting quilts for display starting Monday, July 21 and will continue to accept quilts until noon, Wednesday July 23.
Registration forms for your quilt are available online at www.Visitbonham.com or when you bring your quilt into the Visitor Center. So many quilts so little time to see them all, but you can try! For more information, contact the Bonham Visitor Information Center at 903-583-9830.