Local News
McKinney receives Keep Texas Beautiful Sustained Excellence Award
Aug 3, 2014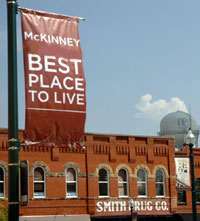 McKINNEY, Texas (July 16, 2014) – During the McKinney City Council meeting last night, the city was presented The Sustained Excellence Award, sponsored by Keep Texas Beautiful and the Texas Department of Transportation, after being recognized at the Keep Texas Beautiful state conference in Austin in June.

The Sustained Excellence Award is given to communities receiving high achievement scores for three consecutive years in seven environmental and community improvement areas: community leadership and coordination, education, public awareness, litter prevention and clean up, illegal dumping enforcement, beautification and property improvement and solid waste management. McKinney programs included in the award are events like the Texas Trash Off and Chunk Your Junk and seminars covering topics like landscaping and resource preservation.

"We are proud that this award recognizes the leadership of the city's Environment Education program to enable citizens to enhance their community and protect the local environment," said Chris Browning, Director of Water Utilities & Infrastructure. "Our staff and City Council are committed to the core values of Keep Texas Beautiful, and this award validates that."

For more information on McKinney's Environment Education program, visit mckinneytexas.org/green or call 972-547-7335.