Local News
AgriLife Extension's Master Naturalist Program to offer volunteer training
Jul 31, 2014
AUSTIN – The Texas Master Naturalist program will offer volunteer training courses conducted by 10 of their chapters across the state beginning in August, organizers said.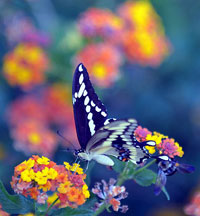 The Texas Master Naturalist program has 44 Texas chapters whose goal is to develop a corps of well-informed volunteers to educate their communities about natural resource management, said Michelle Haggerty, Texas Master Naturalist program coordinator at Kerrville. The organization is jointly administered by the Texas A&M AgriLife Extension Service and the Texas Parks and Wildlife Department.

"The main qualification needed to become a certified Texas Master Naturalist is an interest in learning and playingan active part in conservation," Haggerty said.

Volunteers will receive a minimum of 40 hours training from educators based at universities, natural resource agencies, nature centers and museums, she said. They are expected to give 40 hours of service annually in community education, demonstrations or habitat enhancement projects. They are also expected to pursue a minimum of eight hours of advanced training in areas of personal interest related to the program.

For individual chapter specifics including registration fees, times and specific dates, call any of the following chapters offering training:

– Abilene, Big Country Chapter, Jessica Adams, AgriLife Extension office in Taylor County at 325-672-6048.

– Bonham, Bois d'Arc Chapter, call the AgriLife Extension office in Fannin County at 903-227-6568.

– College Station, Brazos Valley Chapter, Betty Vermeire, bavermeire@suddenlink.net or 979-324-6654 or see chapter website, http://txmn.org/brazos/ .

– Corpus Christi, South Texas Chapter, Beth Chase, bchase.1128.edu@gmail.com .

– Denton, Elm Fork Chapter, Don Fikes, drfikes1@verizon.net , 940-453-2698, chapter website, http://txmn.org/elmfork/ .

– Fort Worth, Cross Timbers Chapter, Ginger Bason, gbasonbowden@gmail.com , 817-307-8530, chapter website, http://www.ctmn.org .

– Georgetown, Good Water Chapter, Lori Merlino lmerlino@rocketmail.com , chapter website: http://txmn.org/goodwater .

– Houston, Gulf Coast Chapter, training.officer@txgcmn.org , chapter website, http://www.txgcmn.org .

– Kerrville, Hill Country Chapter, Becky Etzler, hillcountrymasternatualist@gmail.com , chapter website, http://txmn.org/hillcountry .

– Rosenberg, Coastal Prairie Chapter, Lisa Marler, marlerla@sbcglobal.net, 832-922-0524 or Lisa Feighery, lisafeighery@yahoo.co.uk, 281-750-9790, Margo McDowell, AgriLife Extension office in Fort Bend County, mmcdowell@ag.tamu.edu, 281-633-7033, chapter website, http://txmn.org/coastal/.

– San Antonio, Alamo Area Chapter, Pamela Ball, pball12@satx.rr.com, chapter website, http://txmn.org/alamo/.

For more information on existing chapters or forming a new chapter, contact Haggerty at 830-896-2504, mhaggerty@ag.tamu.edu.

Complete information about the Texas Master Naturalist program is available at http://txmn.org.