Front Page
Bonham man remembered for piloting a portion of Lincoln Funeral Train
Jul 23, 2014
The 81st Texas Legislature and the U.S. House of Representatives both took a moment to admire an historic railroad career that carried Alonzo John Wemple from his hometown of Schenectady, New York to Bonham, Texas -- a career then even included piloting the train that carried the body of slain U.S. President Abraham Lincoln a portion of the way between Washington, D.C. and Springfield, Illinois.
Wemple's first experience with the railroad came in February 1851 when the 17-year-old drove a team of either mules or oxen during the construction on the New York Central Railroad near his home in Schenectady, New York. He hired on as a fireman in September 1851 and became an engineer in 1854 with a transfer to the Greenville & Miami Railway Company in Ohio, which had chartered in 1846. Wemple's first run was from Dayton, Ohio to Union City, Indiana and eventually on to Indianapolis.
When the Civil War broke out in 1861, Wemple was working for the Illinois Central. The image of watching Union guards in heavy overcoats, with breath steaming in the frigid air as they barked out orders while they herded freezing Confederate prisoners clad only in tattered rags into boxcars, would always haunt Wemple. When the opportunity came in 1863 to return to the Schenectady area, Wemple jumped at the chance.
When President Abraham Lincoln was assassinated April 14, 1865, the Lincoln Funeral Train embarked on a solemn procession through eight states en route to Lincoln's final resting place in Springfield, Illinois. Wemple was among the elite railroad crew selected for this historic journey and was most likely at the controls when the train traveled from Schenectady to Troy, New York. It is even possible Wemple piloted the Lincoln Funeral Train into Springfield, Illinois.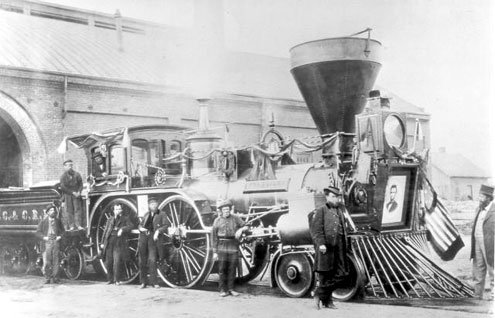 One of the engines that pulled the Lincoln Funeral Train
This was America's first assassinated president and first national funeral. The Lincoln Funeral Train departed Washington, D. C. on April 21, 1865. It would travel through 180 cities in eight states and log 1,654 miles before pulling into Springfield on May 4.
James M. Cornelius, Ph.D., curator of the Lincoln Collection in the Abraham Lincoln Library, wrote that the train procession was "the largest public event in American history."
"Some estimates place the number of people who saw a funeral or the train at 10 million people, or nearly one-third of the U.S. population at the time," explains Cornelius. "So an engineer for that train had one of the most visible and important tasks in the nation."
Wemple would have another brush with history in 1871 when he was running a switch engine in Illinois and witnessed the Great Chicago Fire that left 90,000 residents homeless.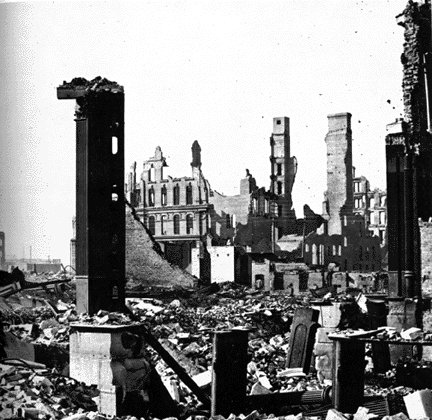 Corner of Dearborn and Monroe Streets after the Great Chicago Fire of 1871
Wemple came to Texas in 1886, where he operated a train between Texarkana and Whitesboro. In 1888, Wemple transferred to the Bonham yards as a switch engine operator, a position he held until retirement in 1927 ended a 75-year career.
An article in the January 19, 1929 edition of the Bonham Daily Favorite sadly disclosed the end was near.
Information reached this city Friday night that A.J. Wemple, whom every railroad man, and many other citizens of this city called 'Daddy,' was in serious condition in Fort Worth, where he had been living since retirement from active work on the Texas & Pacific Railroad. Mrs. George Myers, his daughter (Frances), left this morning to be with her father and the end is expected almost any time, unless a wonderful change for the better sets in immediately. For years A.J. Wemple was an engineer here in the yards, running a switch engine. He had done road work, both as a fireman and engineer years ago, before coming to Texas. Back in New York he had run from Syracuse to Schenectady, if memory is right. Afterwards he went to Illinois to work. And he was running a switch engine in Chicago when the great fire broke out. Before that time, however, he was doing road work in Illinois, and when the body of Abraham Lincoln was brought from Washington City back to Springfield, there the great commoner had lived and practiced law, A.J. Wemple was at the throttle of the engine which pulled the funeral train into Springfield with the remains. He often spoke of that occasion, and quite naturally, of course, with some feeling of pride for having had something to do with the martyred president's sad homecoming.
Whether or not the newspaper account of Wemple's recollections 50 years prior were exactly precise doesn't change the fact that he witnessed an extraordinary amount of American history. Wemple's first wife, Charlotte, died in 1892. He would later marry Fort Worth native Pearl Williams in 1900. Alonzo J. "Daddy" Wemple and his two wives are buried in Willow Wild Cemetery in Bonham.
Dean Gibson, a dedicated historian researching the men who piloted the Lincoln Funeral Train, was in Bonham last week to present Resolutions by the 81st Texas Legislature and U.S. House, both of which recognized the historic nature of Mr. Wemple's remarkable 75-year career. Mr. Gibson explained that out of approximately 120 men who served on the Lincoln Funeral Train, only slightly more that 20 are known.
Gibson recalled how his research led to Bonham, the town where Wemple is interred, and the first local person he spoke with was Bobby Danner, who was working at the Sam Rayburn Library in 2004.
Tim LaVergne was also very helpful in supplying detailed records from Constantine Lodge #13.
Tom Scott was also a valuable source of information.
"Tom and I would talk this over every week or at least every other week," Gibson said. "Tom actually drove me out to a house Wemple had lived in on S. 2nd Street."
Gibson's dedication to this project will result in Texas Historical Markers at Clarksville, Bonham, Fort Worth, Whitesboro, Bowie and Texarkana because of Wemple's work with Texas & Pacific Railroad in all of those towns.
Gibson said probably nothing he has uncovered so far was more astounding than the sheer longevity of A.J. Wemple's 75-year career as a railroad man.
"A lot of historians consider Wemple to be one of our oldest engineers," Gibson noted.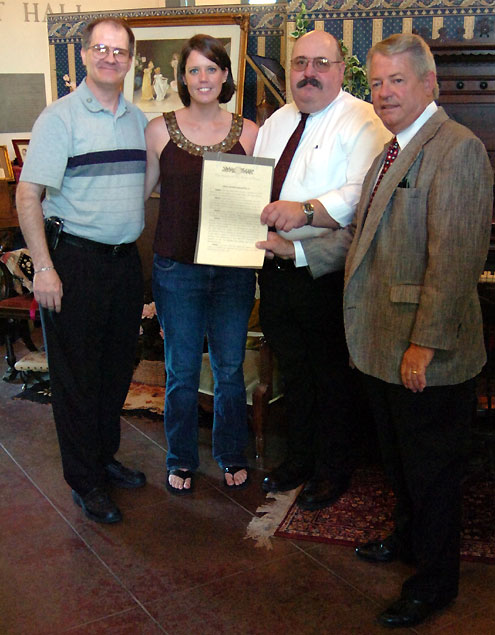 (l-r) Dean Gibson, the historian researching the men who piloted the Lincoln Funeral Train; Jessica Kirkpatrick, whose uncle Bobby Danner assisted Gibson, Tim LaVergne, member of Constantine Lodge 13 to which Alonzo Wemple belonged; and Bonham Mayor Roy Floyd. Mr. Gibson was in Bonham to present a Resolution by the 81st Texas Legislature recognizing the historic railroad career of Alonzo John Wemple.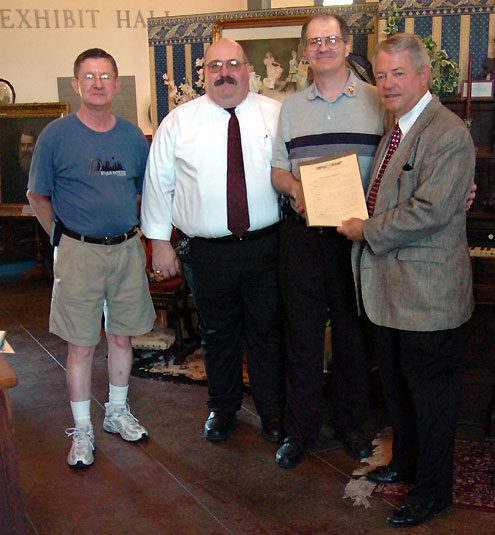 (l-r) Larry Standlee, Fannin County Historical Commission; Tim LaVergne; Dean Gibson; and Bonham Mayor Roy Floyd. Mayor Floyd is holding the U.S. Congressional Record that recognized Wemple.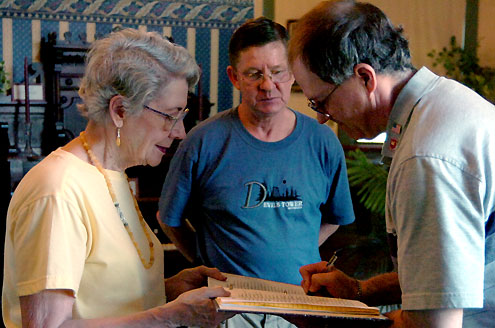 Jean Dodson, Fannin County Museum of History assists historian Dean Gibson as he signs in. Looking on is Larry Standlee of the Fannin County Historical Commission.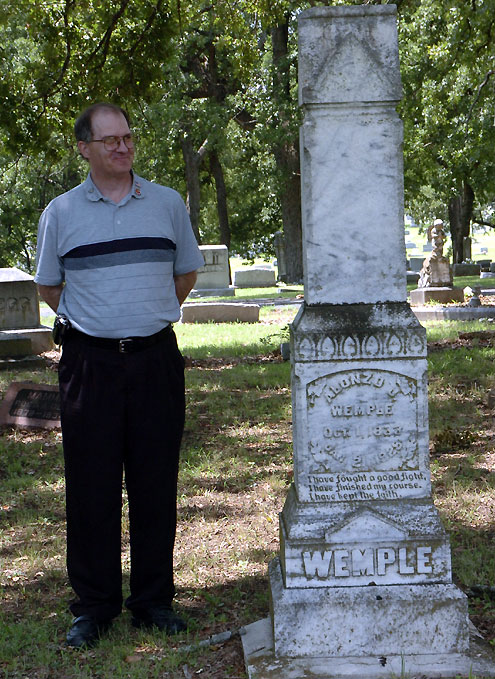 Dean Gibson, the historian credited with documenting Wemple's participation in the Lincoln Funeral Train, stands beside the tombstone of Alonzo John Wemple and Wemple's two wives.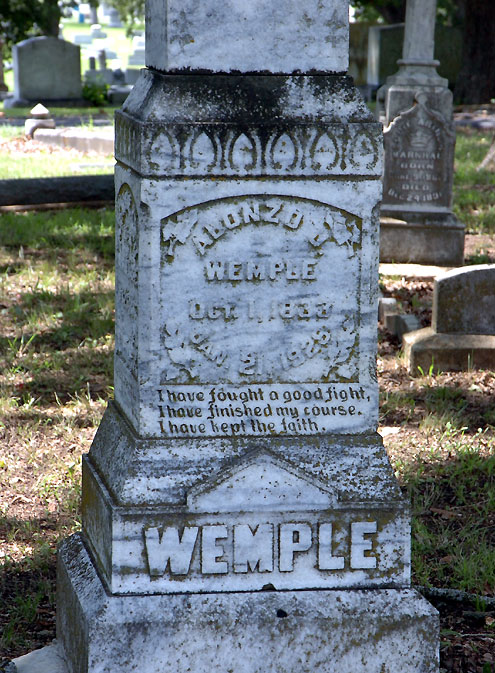 A.J. Wemple's tombstone in Willow Wild Cemetery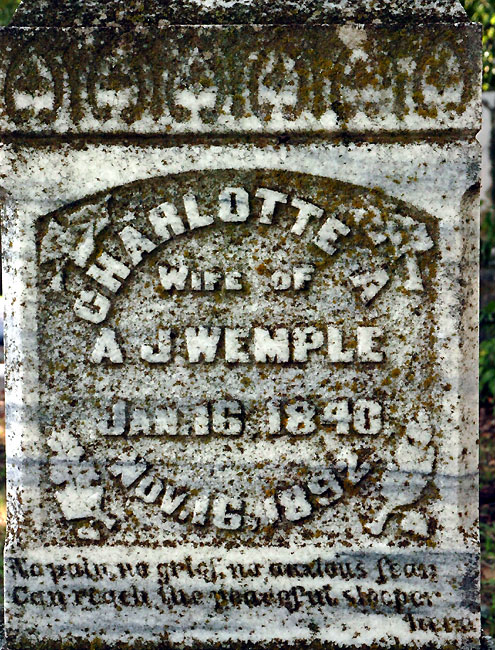 Charlotte Wemple's side of the tombstone