Front Page
1st Annual Kite Fest held in Fannin County
Jul 16, 2014
July 12, 2014 saw the First Annual Kite Fest put on by the Bonham Area Chamber of Commerce for all the residents of Fannin County. We had 150 people, mostly made up of families, turn out to fly their kites or just to watch others fly some amazing kites. The essay contest for school age children was a huge hit and we received almost 400 great essays about kites and flying them.
The winners of the essay contest were: Ryan Murphy who received a $100 kite and a trophy, Noah Shellman who received a $100 kite, Aubrey Orsak who received a $100 in kites and a trophy, and Kate Vaught who received a $75 kite and a trophy.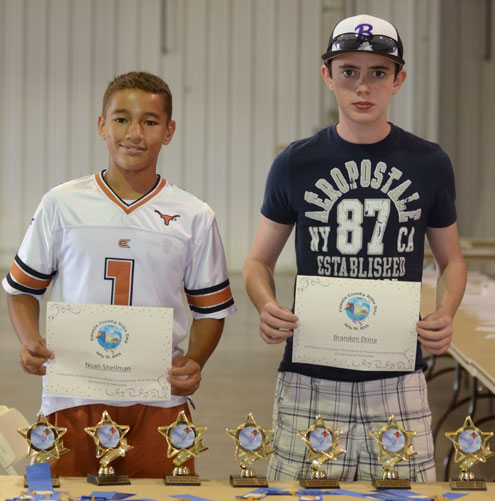 Essay winners Noah Shellman (left) and Brandon Dona.
Thanks to everyone who participated in this great display of imagination and writing skills.
Thanks to all the sponsors who helped make this such a success: ATMOS Energy, Awards Unlimited, Brookshire's, Patricia Wolf, Fannin Bank, Fannin County Crisis Center, Fannin County Leader, Galyon Insurance and Travel, Judy & David Keene, Law Office of Michael Evans, Pat Ward, Mayor – Roy Floyd, Texas Firearms Training Academy, Texcel Exploration Inc., and Wise Funeral Home.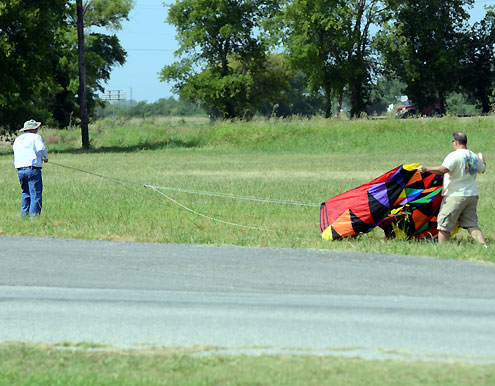 Bonham Area Chamber of Commerce Executive Director Dale McQueen (left) helps a member of Dallas Area Kitefliers Organization get one of the large kites off the ground. photo by Allen Rich
Special thanks go to the Dallas Kite Club for coming up and displaying some very large unique kites for the event.
This was a great family event and a lot of fun was had by everyone who attended. The Chamber of Commerce looks forward to putting this event on in the future and based on the results of our first one, this could grow to be a major event for all of Fannin County.
Thanks to everyone who participated and we look forward to seeing you again.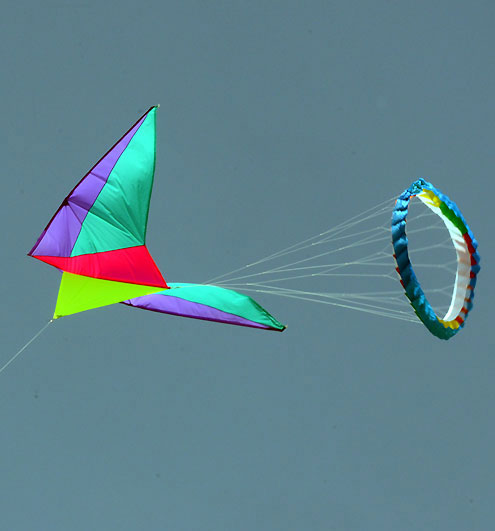 Flying Kites
By Ryan Murray
There I was once again, sitting at the park watching my 85 year old grandfather fly his kite "The Raven". He would bring me to the park every Saturday so I could watch him fly his kite. He didn't know that I thought flying kites was the dumbest thing ever, but there I was. When he finally finished we went home and the whole time I had to listen to him explain how the weather was perfect for flying kites, or how he couldn't wait for the next weekend. Next weekend is when the kite flying contest is, and he has been anxiously waiting for almost a whole year to go and fly his kite. He even made "The Raven" himself. He spent almost five months making and perfecting his kite and also another six months practicing flying it. He is so excited because this will probably be his last year flying in the contest because the doctors don't think he will live long enough to go to next year's contest.
A week has gone by and today is the day of the contest. My mom, dad, and I are walking over to my grandfather's house and we see the police and an ambulance.
We walk up to the house to see what is going on and the police approach us and tell us my grandfather is dead.
My grandmother comes over crying and tells us that he wanted me to fly "The Raven" in the contest. I tried to tell them that I don't even like flying kites, but they didn't listen and there I was in the park once again, only this time I was flying the kite, not my grandfather. Now I know that I don't like to fly kites, but after all the years of watching my grandfather I was pretty good at flying kites.
No I didn't win first place or second place or even third place, but I did learn why my grandfather loved flying kites. It was absolutely amazing watching "The Raven" fly. It looked and even flew like a real bird. It was awesome flying the kite. I just wish that I could have enjoyed it with him.
7th - 8th Grade
1st Place, a Trophy and $100 Kite
Kite Essay
By Noah Shellman
Kite flying is something I have never done much of, but it is definitely something that I enjoy and can relate to in so many ways. My parents bought me a kite last summer to take on our vacation to the beach. My kite is so big and is in the shape of a shark. My kite has a really long tail that whips in the wind too. It causes me to reflect on something new and unique each time I fly it.
The first time I flew it I remember being so amazed at how easily the wind lifted it up into the air. I kept wondering if I had enough string to let it go as high as it wanted to go. The higher it went, it got a little harder to control because the wind kept tugging it as if it were trying to pull away from me. I remember thanking God for the wind. I kept wondering what it would be like to be a shark floating in the air above the ocean and seeing everything from a bird's view. It was so peaceful to just watch it sway back and forth in the breeze. The white fluffy clouds seemed to dance in the background as if to say, "Look at us, we are the ocean waves now." It seemed as if the sea and sky had switched places and I lost myself in the adventure of it all for a while.
The second time I flew my kite, I was thinking about God and how I wish my shark kite could reach heaven's gates. I then thought that when my kite reached the gate that God could put a note on it and send it down to me. Wouldn't that be cool? But as I watched my kite easily take off and climb higher and higher into the sky, I realized that I didn't need God to send down a note. No, God could talk to me here and now, and in a way He was. I remembered from my Sunday School lessons that God's word tells us in Isaiah 40:31: "– but they that wait upon the Lord shall renew their strength; they shall mount up with wings like eagles; they shall run, and not be weary; they shall walk, and not grow faint." The kite represents my soul soaring high above my problems on earth and my spirit seeks to find comfort in the Lord who will renew me to deal with my problems. It's as if my soul has been set free to soar to the heavenly places.
I am very competitive and competition can be fun. Healthy competition helps us reach our potential and do our best in life. But it's also up to us to make sure that competition stays fun. If we get so caught up in competing that we're willing to hurt other people in order to win, that's not okay. Proverbs 24:17 warns us that while we might like to win, we shouldn't gloat over someone else who fails. If you love to compete like me, make sure you know how to keep it fun. I like to fly my kite just for fun sometimes and forget about active competition. It's just me and my kite and then when I get lost in the sport of flying it, God shows up and wants to spend time with me!
I have realized that my kite has been a tool that God has used to help me grow a little closer to Him. While I fly my kite I know that I can talk to Him anytime, anywhere because He is always listening. Wherever I am and whatever I am doing, walking or sitting, eating or studying, playing ball or lying down, I can talk to God and He is there to listen. And what I've also learned is God loves to fly kites with me too!
7th – 8th Grade
Won: 2nd Place, $100 Kite

My Kite
By Aubrey Orsak
Today is the big day. I'm competing for the kite competition. I'm going to practice before it starts so I can not mess up and not be embarrassed, but if I don't win I will go home like a winner.
I found my kite on Easter so there were red kites, blue kites, and when I saw that kite I knew I found it. It had diamond shapes on it. It had pink and purple and blue on it. The string was all those same colors too. It was awesome.
My adventure with the kite was awesome. I did not win but I was happy because there was cotton candy at the contest so I got some and it was delicious. When I went home I was still a winner.
2nd - 3rd Grade
Won: 1st Place, a Trophy and $100 Kite
Kite Essay
By Kate Vaught
I gazed up into the sky as I watched our amazing kites soar into the clouds. My friend and I were at a beautiful lake sitting on the shore talking, relaxing, and flying our homemade kite. We had both put our minds together to come up with a beautiful kite design for a local contest, and we were overjoyed at the way the kite soared with ease. The dazzling colors glistened in the sunlight of the bright summer day.
Our kite was constructed wonderfully because my best friend and cousin, Madeleine, had come up with a spectacular kite layout to build. She had built it out of several beams of wood and laid a thick piece of white fabric on top of it. Then, with her unthinkable brains, she attached some kite string and rolled it onto a wooden spoon. It was almost ready to soar, but first it had to look the part.
The day before the contest, I had painted dazzling red poppies onto our kite. I was very proud, because it was one of my best works. On the day of the contest, Madeleine and I greeted each other with excitement. When it was time for the kites to fly, we lined up and released them. Madeleine was flying the kite, and I would be the one who displayed it. When it was time to bring the kites back down from the sky, Madeleine accidentally released ours. Although she was tall, she could not save it. She lurched over into my arms and we both cried.
After we were done mourning, we went over to the display area. There on the table lay our kite. There was a small girl standing next to it. She said she had caught it and she thought it was beautiful. At that moment, one of the judges walked up to us and handed us a royal blue ribbon and one hundred dollars. We began to cry again, but this time they were tears of joy. The young girl asked us why we were crying, and we then told her that we had won. She congratulated us and began to walk away. I stopped her and handed her our kite. She beamed up at me, and Madeleine and I grinned at each other because she was so happy. We walked away feeling emotional because we had won, but we had also done something special for someone else. When I looked into my cousins overjoyed eyes, I could tell we were going to be making an appearance again next year.
7th – 8th Grade
Won: 3rd Place, a Trophy and $75 Kite