Local News
McKinney Fire Department to host inaugural Youth Career Exploration Camp
Jul 14, 2014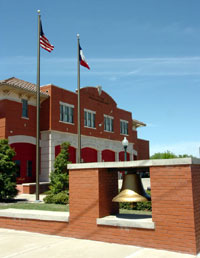 The McKinney Fire Department is hosting its inaugural Youth Career Exploration Camp for eight lucky campers, ages 12-17 years, who will get the opportunity to explore fire and emergency response services careers through in-the-field instruction and action-packed activities.

The week-long camp, beginning July 14, combines hands-on training challenges and drills including search and rescue, emergency management, CPR and basic first aid instruction, arson investigation and other exciting activities such as riding in a fire engine, touring a medical helicopter and search & rescue simulations.

The campers will also get to visit community fire stations and training facilities, as well as the Burn Center at Parkland Hospital and the DFW Airport Fire Training Field.

"Statistics show that the fire service workforce is the least diverse of any protective service occupation. By hosting these camps, we hope we can inspire children of all backgrounds to pursue a rewarding and exciting career in this field," said Stacie Durham, Public Information and Education Officer for the McKinney Fire Department.