Local News
Smith Feed and Seed - A Texas Treasure
Jul 15, 2014
Honey Grove -- On Saturday, July 26, 2014, at 10:00 a.m., Mr. Johnnie Smith of Smith Feed & Seed will be presented with the Texas Treasure Business Award, awarded by the Texas Historical Commission. This award is for a business which has been in continuous operation for at least 50 years. The Honey Grove Preservation League is honored to have sponsored the nomination of Smith Feed & Seed for this award. Mr. Smith and his store are certainly treasures to Honey Grove and the surrounding community.
Born in Honey Grove, Texas, in 1927, the Smith brothers, twins Johnnie and Jesse Smith, had deep roots in Honey Grove, Fannin County, Texas. Their parents, John Joseph and Velma Perry Smith, were small business owners in the early 1900s, before and after the births of Johnnie and Jesse, having owned and operated service stations and a grocery store in town.
Velma Smith died in 1934 and is buried in Oakwood Cemetery in Honey Grove. John Smith then remarried and his wife operated a thrift store well into the 1960s on 6th Street, just south of the current location of the feed store.
After finishing their education, the two brothers Johnnie and Jesse worked for their father in his establishments into their late
teens. In March, 1946, when he was nineteen years old, Johnnie Smith entered the United States Air Force, serving in the infantry until receiving an honorable discharge in December, 1946. At his release, he was recognized for his "….efficient and faithful service in General Headquarters United States Army Forces, Pacific…." He was at the time of his discharge a Corporal. Returning to Honey Grove, he once again began assisting his father in his business endeavors.
By the early 1950s, according to Johnnie Smith, he and Jesse decided it was time to go into business for themselves, and first discussed the possibility of entering into a business venture together. However, as time progressed, they soon decided that each should go in his own direction, resulting in Jesse Smith opening a grocery store on 14th Street, in the same general area where he continued his grocery business until his health resulted in his having to close the store. Jesse Smith died in 2011 and is buried in Oakwood Cemetery, near his father and mother, John Joseph and Velma Perry Smith, and his grandfather, George Sidney, who died in 1910, as did his great-grandparents, John A. and Ettie Boles Smith, all from complications from pneumonia within days of each other.
Opened originally a couple of doors south on 6th Street from its current location, Johnnie Smith opened his Smith's Feed and Seed Store in mid-February, 1951, and by 1952 had relocated to the current location at 242 South 6th Street, on the corner of 6th and Market Street. Mr. Smith's business has served as the longest running business to continuously occupy this magnificent structure which anchors the Southeast corner of the downtown square.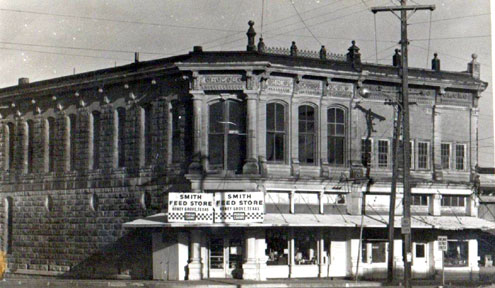 Built in 1883 by Mr. Young Burgher, this building was 30 feet wide, 83 feet long and 40 feet high. Designed by W. H. Wilson
of Dallas, constructed by S. Nelson of Dallas and supervised by J. A. Colter, the building is constructed of stone from the Floyd Quarry which was located south of town. The original building use was to sell hardware and machinery, and the business operated as Burgher and Stephens'. Ed Stephens was a partner in the enterprise. In 1893, it became Hockaday, Gray and Company. In 1893, after being purchased by S. L. Erwin, the business became S.L. Erwin and Son. S. L. was a son of S. A. Erwin, who was Honey Grove's first permanent resident.
Since that time, the store has been used to sell autos, furniture, and groceries. The second story, with its wide, tall original windows provids ample natural lighting and openings which serve to light and cool the space which has served as an office building. On the bottom floor, a large store front window and round window treatments on the north side of the building provide natural light for the main floor. The building stands as a testament for today's residents and visitors providing a sense of what the building looked like when completed in 1883, and is an outstanding example of the detailed workmanship of craftmen of the era. Further, with its limestone façade from the Floyd Quarry, it is an example of the natural resources found in the area which were available for building purposes. Many of the structures and structure foundations in Honey Grove and the surrounding area were built with stone from the quarry.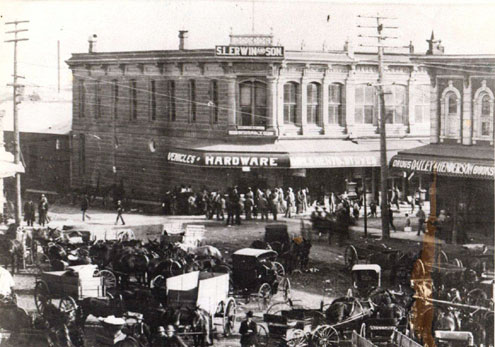 According to the Fannin County Abstract Company, Field notes, recorded in Surveyor's Records of Fannin County, in Book 3, page 442, the property on which the store sits was part of land conveyed to J. J. Nicholson and J. A. Jeffries survey by the Republic of Texas, as part of 320 acres of land, surveyed on the 17th day of December, 1844. The property changed hands a number of times over the years.
Abstract documents attest to ownership of the property by early settlers to Honey Grove, such as James P. Gilmer, who died in April, 1846, the first settler to die in Honey Grove and who is buried at Oakwood Cemetery, B. O. Walcott, and C. H. Walcott, B. S. Walcott, A. B. Walcott, and W. Underwood, William R. Leroy, E. Watson and H. H. Watson, E. Watson, J. N. Bell, J. D. Elliott, Laura Stobaugh, finally to Burgher and Stephens, who were responsible for contracting for the building as it now stands.
Existing pictures of the structure verify that not much has changed. When Mr. Smith relocated to his present location in 1952, he rented the only building left vacant on the Honey Grove Square, which had served as a grocery store prior to his taking occupancy. He rented the space until 1978 when he purchased the property from the Goss family.
Honey Grove and surrounding communities were deep in Cotton Country and the community was at its peak, economically, socially and financially. Today, just as the structure that houses the Smith Feed and Seed Store, its contents have not changed dramatically—offering almost anything one might imagine needing around the house, farm or ranch.
When asked if he still stocks items regularly requested and sold in 1951, he smiled and said, "Well, yes; however, there's not many calls for round metal bathtubs anymore! However, I do still have some."
Smith's Feed and Seed Store is not what most individuals have come to expect—it is not today's typical "box" store, where need of a particular size nail, tap, or screw results in having to purchase six or twelve in a package! Any day of the week, except for Sundays, customers can walk in and purchase the one item needed to address their particular needs. Even on a Sunday afternoon, needing for a bag of potting soil, top soil, or cow manure, one might drop by the store and pick up a bag, which sits conveniently on the side of the building, and then report and pay for the item the following Monday. This is the kind of relationship Mr. Smith has with many of his customers.
While the building and the basic nature of his business have remained the same, more importantly, the man behind the business and the counter is still the same—a true gentleman, a man of faith, a man committed to Honey Grove and its citizens, serving on countless boards, and a man who has offered to hundreds of local citizens, some starting right out of high school, the opportunity to learn the trade, to learn from him a servant leadership approach to business, and to earn a living in their hometown.
In closing, we would be remiss to not mention his reluctance to being acknowledged in this special way because he is a humble man who doesn't do what he does for any recognition. However, he is a man who deserves it, and, as Claude Caffee notes: "He has known me since I was a small child being carried into his store in my dad's arms; I enjoy teasing him in that he is the only person in Honey Grove old enough to remember me as a little kid! Not only is he the longest serving resident of 242 South 6th Street, he is Honey Grove's last business man standing from the heydays of the 1950s, and that is certainly worthy of the Texas Treasure Business Award; he is a Texas Treasure, but more importantly, he is a Honey Grove Treasure."