Local News
Former political reporter Keith Shelton featured July 12 at The Sixth Floor Museum's Living History Program
Jul 12, 2014
Political reporter who covered JFK's 1963 trip to Texas featured during The Sixth Floor Museum's July Living History Program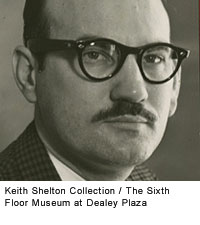 Dallas – In November 1963, Keith Shelton was a political reporter for the Dallas Times Herald covering President John F. Kennedy's trip to Texas. Shelton was aboard a press bus in the presidential motorcade when he heard shots ring out in Dealey Plaza on November 22, 1963. He will share his recollections of that day and his 23 years as a newspaper reporter/editor during The Sixth Floor Museum at Dealey Plaza's July Living History program. Shelton will present at 2 p.m., Saturday, July 12, on the Museum's seventh floor. Tickets are $10 for the program only, or $5 when combined with Museum admission. Advance tickets are recommended and may be purchased online here.

Shelton's specific assignment during the Dallas visit was to cover President Kennedy's speech at the Dallas Trade Mart. After the shooting, the press bus continued on to the Trade Mart where Shelton later learned of the president's death. A month prior to the assassination, Shelton had covered U.N. Ambassador Adlai Stevenson's ill-received visit to Dallas. He also covered the Jack Ruby trial in 1964. Shelton later donated several assassination-related items to The Sixth Floor Museum.

The Living History Series links the past to the present through firsthand accounts from reporters, law enforcement officials, musicians and everyday citizens who witnessed the assassination or other historic events of the early 1960s. Each presenter in the monthly series has contributed to The Sixth Floor Museum's ongoing Oral History Project.

The Sixth Floor Museum is located at 411 Elm Street in Dallas' Historic West End. For more information, go to www.jfk.org or call 214.747.6660.