Columnists
Assignment: Texas with Russell A. Graves
Jul 28, 2014
When I was a kid, I remember going to the movie theater in downtown Bonham, Texas and watching Close Encounters of the Third Kind. It was my first time to experience a Stephen Spielberg movie . At the time, my family lived south of town in the country. When we got back home that fall night, I remember going to the back yard, lying in the grass and starting up at the stars wondering if the fantastic story about aliens could be true.
The movie is still one of my favorites and continues to fascinate me.
Among the movie's iconic scenes is the one where William Dreyfuss' character has visions of a shape. At his kitchen table, using his plate and mashed potatoes, he builds a semblance of the monolithic Devil's Tower near Moorecroft, Wyoming. For reasons different than Dreyfuss' character in the movie, I have always wanted to see the geologic wonder for myself.
This summer, I left Texas and traveled to Wyoming to take my wife and children to America's first national monument. Deemed a place worthy of protection in 1906, Theodore Roosevelt declared the tower and surrounding 1,347 acres a monument.
From a distance, the tower sticks out of the mostly rolling plains that surround it. Getting closer to it, it is even more juxtaposed. Like a giant rock column, it rises 867 feet from it's base to it's high, plateaued summit. Ringing the main tower at its base are huge boulders that litter the area and around that, old growth Ponderosa pines rise from the sloping grassland-covered hillsides.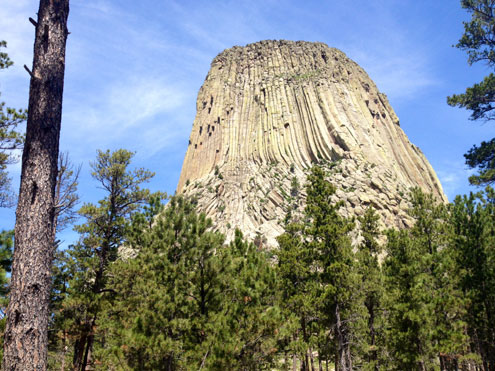 photo by Russell A. Graves
While various theories exist as to the origins of the tower, it is thought that the monolith is the result of an ancient lava infusion into the subterranean soil. As the infusion cooled and millions of years past, the land around the tower eroded away, thus exposing the igneous column. From a distance Devil's tower appears to have grooves down its sides. These grooves are hexagonal columns that are distinct in volcanic formations and run vertically around the entire face of the tower.
Circumnavigating the base of Devil's Tower is a 1.3 mile, all-weather trail that my family and I hiked on our trip. Around the way trail several interpretive signs tell of the natural and cultural history of the area and provides a spectacular view of the Belle Fourche River bottom as it cuts its way through the red dirt sedimentary rock that flanks the tower.
At one stop we see mountain climbers scaling the side of the tower. According to what I read, about 1,000 people a year ascend the face and summit. Looking at the monument, it seems impossible but four people attached to ropes are defying my sensibilities.