Farm and Ranch
Ladonia Rodeo and Frontier Day this weekend
Jul 11, 2014
Ladonia -- Plenty of cowboys, cowgirls, two nights of triple sanctioned rodeo, dance music by an Austin country music band, a day filled with Frontier Day fun events, and a guest stop by an international rodeo queen scoot all boots towards Fannin County and Ladonia this weekend.
The 49th Annual Ladonia Rodeo and Frontier Days is set for Friday and Saturday, July 11th and 12th. Rodeo time each evening is 8:30 p.m. at Eastman Arena on Hwy 64 east of Ladonia. Sponsored by the Ladonia Rodeo Association and produced by Wing Rodeo Association, the rodeo features nine events with an added purse of $4500. The rodeo is sanctioned by three rodeo associations: the UPRA, CPRA, and CRRA.
Rodeo association president Randy Conley says that rodeo gates will open a couple of hours ahead of rodeo time, and concession stands and booths will also be open for sale of food, souvenir tee shirts, rodeo memorabilia, and other rodeo items. Conley asked folks to come out and give Australia's National Rodeo Queen, Danielle Quinsee, a big Texas welcome as she makes an appearance at the Ladonia Rodeo on her way to the Calgary Stampede. She is on tour during her year's reign and will appear at a number of major rodeos in the US and Canada before returning to her homeland. Though not one of America's major rodeos, the Ladonia Rodeo is typical of Texas' many small town, boot scootin', fun-filled rodeos.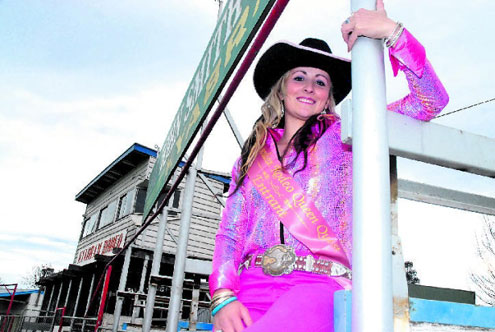 Australian Rodeo Queen Danielle Quinsee
The Cody Bryan Band will be featured Saturday night to provide music for a dance following performance of the rodeo. The Cody Bryan Band began as a popular house band in the Austin country entertainment area in 2013, and its popularity playing for Texas country dances has surged with bookings at Shiner Music Fest, Houston's Firehouse Saloon, Bull Mania Rodeo in Conroe, and Washington-on-the-Brazos July 4th Fireworks Celebration.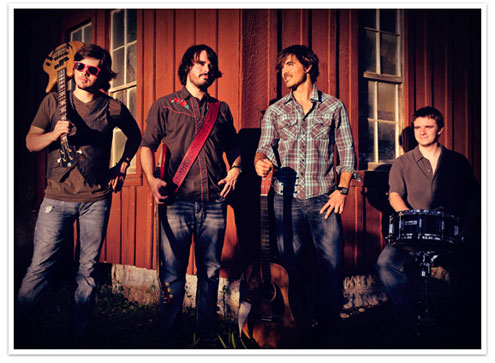 Cody Bryan Band
Randy Conley said there are some special features this year. Friday night is Pink Night for breast cancer awareness. Also, there will be mutton bustin' each night for kids age 6 and under. Admission is $7 for adults and $5 for kids, payable at the gate.
He has special thanks for the many volunteers that give time to make the Ladonia Rodeo successful. He thanks James Hodge Motor Company for sponsoring rodeo entertainer Coty "Whizbang" Cooper who performs nightly and is partcularly thankful to sponsors of the rodeo including Cavender's Boot City, Continuous Country FM K 95.5, and Ben E. Keith.
During the day Saturday, folks gather at the Ladonia town square for a day of fun events and festivities. The 49th Annual Frontier Day Celebration kicks off at 7:30am with a breakfast at the local firehouse. At 9 am the City Hall Lawn turns into a park for day long events. Vendors and traders set up food and memorabilia booths, and the games begin.
A variety of activities attract kids and grown ups to events starting with men's Hay Toss and Women's Hay Toss. Then, it's on to the annual Horseshoe Pitching Contest, a Shoe Kicking Contest; then, Bubble Gum Blowing, Watermelon Seed Spitting, and a Knock-Out Free Throw Contest.
A set of events for Little Britches has been scheduled to include a Sack Race, a Hay Toss, Hula Hoop competition, Stick Horse Race, and a Frisbee Toss.
At High Noon on Main Street, a local group of wild west characters will stage a melodrama unfolding and leading to a shoot out in front of a street lined with spectators.
Afternoon events include a Raw Egg Toss, a Terrapin Race, a Wheelbarrow Race and a Lawn Mower Race. Finale is the Ladonia Amateur arm Wrestling Contest that pits some of the strongest men in Northeast Texas against each other for cash added prizes.
Schedules for Frontier Day events are available at various locations around Ladonia. Vendors and booth operators may reserve spaces by calling Lavonne Duncan at 903-367-7442.