Lifestyles
Bonham Community Garden work day July 26
Jul 25, 2014
Saturday, July 26, 2014
The Bonham Community Garden in Catron Park at East 2nd Street and Elm will have a work day on July 26, 2014 from 9:00 a.m. to 12:00 p.m. Work will include building raised garden beds, laying out garden paths, and fixing the community garden sign. Volunteers and those wishing to get a garden plot are encouraged to come to the work day.
The Bonham Community Garden was started in 2012 by Citizens Organizing for Resources and Environment (CORE). The southern part of Catron Park was allocated by the Bonham City Council to be the location of the community garden and the city of Bonham installed water in the park and gives the community garden free use of the water.
The work day will be a great opportunity for members of the community to come together and get the garden ready for a Fall garden. Bonham residents who do not have a space to garden at home, but who would like to grow some of their own food, are encouraged to come get a plot in the community garden.
"In this age of inner-city food deserts and cheap fast food, it is vitally important to give people who don't have the opportunity to garden a place to grow healthy, local food," says Chris Voss, past-president of CORE. "The Bonham Community Garden is that place for many families in Bonham and there is room to grow!
"There is no better feeling than picking that first ripe tomato or squash of the season, and there is no better place to do it than at a garden with your friends and fellow community members, working together to make a park into a food oasis."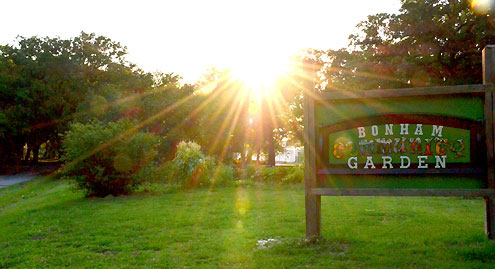 For more information about the Bonham Community Garden or to get a garden plot, go to http://www.texomacore.org/Bonham-Community-Gardens.html or call (903) 227-0898.