Front Page
Kathryn's Texas Kitchen
Jul 6, 2014
Almost everyone loves to eat fish.
Lately we've been eating a lot of lake catfish that we've been catching.
We also love halibut from Central Market.
Both are tasty and taste fresh even after being frozen to keep them fresh tasting.
Halibut is an extremely low-fat fish and requires little seasoning, but the little fat in halibut makes it a difficult fish to smoke unlike salmon. Halibut is a flatfish and is a member of the right-eye flounder family. The halibut we get at the grocery store comes from the Pacific Ocean as the halibut in the Atlantic have been overfished and are considered almost an endangered species.
According to Fish Without a Doubt, "Fresh halibut should appear translucent and glossy. The flesh should look and feel firm. Avoid fish that appears chalky white, with no translucence. Halibut can be grilled (as brochettes), baked, broiled, sautéd, or poached. It is a very lean fish, which means it will dry out when overcooked." The mild and sweet flavor of the snow-white halibut is perfect for sauces and butters.
This recipe is ideal for Texas summer squash and green onions fresh from the garden.
Halibut with Spring Onion and Summer Squash Sauté
Recipe adapted fromBon Appétit, June 2012
4 servings
Ingredients
8 spring onions or large green onions, bulbs separated from tops
4 TB olive oil, divided
1½ lb assorted summer squash, cut into 1-inch pieces
1 TB fresh thyme leaves, plus 4 sprigs
Kosher salt and freshly ground black pepper
4 6-oz skinless halibut fillets
Other Items Needed
Measuring cups and spoons
Cutting board
Chef's knife
Large skillet
Wooden spoon
Plate
Large nonstick or cast iron skillet
Tongs for fish
Four serving plates
Instructions
Cut onion bulbs in half lengthwise, quarter if large. Cut enough onion tops into 2-inch lengths to measure 1 cup. Heat 1 TB oil in the skillet over medium-high heat until almost smoking. Add onion bulbs cut side down. Cook until golden and transfer to a plate.
Heat 1 TB oil in the same skillet. Add squash and cook, stirring occasionally, until golden brown and just tender.
Stir in onion bulbs, onion tops, and thyme. Season with salt and pepper. Cook until onion tops wilt. Remove from heat and set aside.
Heat remaining 2 TB oil in the second skillet over medium-high heat. Season halibut with salt. Add fish and thyme sprigs to skillet and cook until fish is golden brown. Turn fishand cook until just cooked through and opaque in the center.
Divide onion-squash sauté among four plates. Top with halibut. Serve immediately.
Kathryn's Texas Kitchen next serves a delicious shrimp dish.
Until next time…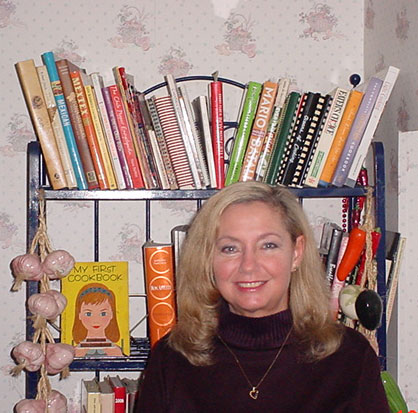 Bon appétit!