Entertainment
Free 'Ice Cream Sunday' at Kimbell Art Museum with Blue Bell Ice Cream
Jul 6, 2014
FORT WORTH -- -- The Kimbell Art Museum and Blue Bell Ice Cream present "Ice Cream Sunday" on Sunday, July 20, from noon to 3:00 p.m., in the Piano Pavilion, to celebrate National Ice Cream Day. Visitors will leave the summer sizzle behind during an enjoyable afternoon of ice cream and art.

An ice cream--inspired collage activity and a showcase of children's films will take place throughout the event. Film programs are offered in partnership with the Lone Star Film Society. Visitors of the event can register to win a one-year supply of Blue Bell Ice Cream or a one-year Kimbell family membership.
To commemorate National Ice Cream Day, Blue Bell will debut their newest ice cream flavor, Magic Cookie Bar, at the Museum. Magic Cookie Bar is a sweet ice cream loaded with graham cracker crust pieces, chunks of dark chocolate, roasted pecan pieces and toasted coconut, all surrounded by a caramel sauce swirl.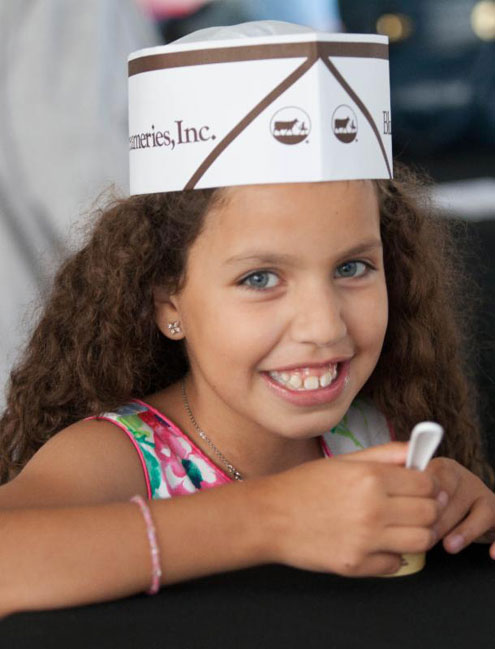 Admission to the Museum's permanent collection is always FREE. Fort Worth Star-Telegram Press Pass holders will receive free admission to Samurai: Armor from the Ann and Gabriel Barbier-Mueller Collection.
National Ice Cream Day
In 1984, President Ronald Reagan designated July as National Ice Cream Month and the third Sunday of the month as National Ice Cream Day. He recognized ice cream as a fun and nutritious food that is enjoyed by a full 90% of the nation's population. In his proclamation, President Reagan called for all people of the United States to observe these events with "appropriate ceremonies and activities."
About Blue Bell
Blue Bell Ice Cream is the third-best-selling ice cream in the U.S., despite the fact that it is only sold in 23 states, because it is so popular in the markets where it is available. Founded as The Brenham Creamery Company in 1907 to make butter from the excess cream produced by the farmers of Washington County, the company began making hand-cranked ice cream in 1911, at the rate of two gallons a day. In 1930, the company name was changed to "Blue Bell" after the manager's favorite Texas wildflower. Butter was produced until 1958, when company management decided to devote their efforts full-time to making "the best ice cream in the country." Today, Blue Bell produces about 250 different products. Blue Bell currently has six branches serving the greater North Texas area.
About the Kimbell Art Museum
The Kimbell Art Museum, owned and operated by the Kimbell Art Foundation, is internationally renowned for both its collections and for its architecture. The Kimbell's collections range in period from antiquity to the 20th century and include European masterpieces by artists such as Fra Angelico, Michelangelo, Caravaggio, Poussin, Velázquez, Monet, Picasso and Matisse; important collections of Egyptian and classical antiquities; and Asian, Mesoamerican and African art.
The Museum's 1972 building, designed by the American architect Louis I. Kahn, is widely regarded as one of the outstanding architectural achievements of the modern era. A second building, designed by world-renowned Italian architect Renzo Piano, opened in 2013 and now provides space for special exhibitions, dedicated classrooms and a 298-seat auditorium with excellent acoustics for music.