Local News
Texas Game Wardens enhance BWI enforcement efforts
Jun 29, 2014
AUSTIN – Law enforcement officers across the U.S. are gearing up for Operation Dry Water – the nation's boating while intoxicated (BWI) awareness and enforcement campaign. The nationwide event will take place June 27-29.
Alcohol use is the leading known contributing factor in recreational boater deaths in the United States.

"Texas Game Wardens as well as our law enforcement partners will be on heightened alert for those violating boating under the influence laws," said Cody Jones, TPWD Law Enforcement Assistant Commander for Marine Enforcement and Texas State Boating Law Administrator.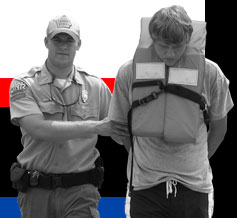 In 2013, officers from across the country contacted 144,044 recreational boaters and made 290 BWI arrests during the three-day weekend. Thousands of law enforcement officers, along with their boating safety partners, will be on the water during Operation Dry Water educating boaters about the dangers of boating under the influence of drugs and alcohol as well as removing from the water those who choose to boat impaired.

"Game Wardens will continue to remind Texans through education and enforcement to always have a designated driver while boating on our lakes and rivers," said LTC Danny Shaw, TPWD Law Enforcement Deputy Director. "Our purpose is to provide everyone an opportunity to safely enjoy themselves on the water and return home at the end of the day. We will have enhanced Game Warden patrols through the remainder of the summer and our officers will be on high alert for those who choose to place themselves and others in danger by drinking and operating vessels on our public waters."

"The mission of Operation Dry Water and the law enforcement officers who participate is to reduce the number of alcohol- and drug-related deaths on the water," says John Fetterman, National Association of State Boating Law Administrators (NASBLA) Deputy Executive Director. "Boating should be a fun and enjoyable time spent with friends and family; we are asking that boaters make sure their voyage remains enjoyable by boating sober. Too many accidents and deaths are caused by those who choose to boat under the influence."

In addition to having a designated driver, TPWD stresses the following four key points to decrease boating and water related accidents, injuries, and deaths.

Wear a life jacket. 70 percent of persons who died in a boating accident would be alive today, if they had worn a life jacket.

Use the ignition safety switch, commonly called a "kill switch" to stop the engine if you fall overboard. Don't be stranded, or run over by your boat.

Learn how to swim.

Take a Boater Education course from Texas Parks and Wildlife: It could save your life.

TPWD Boating Safety Link: http://www.tpwd.state.tx.us/fishboat/boat/safety/

TPWD Boating Education: http://www.tpwd.state.tx.us/learning/boater_education/

For more information on Operation Dry Water: http://www.operationdrywater.org