Local News
Bricks being sold through July 4 for Eisenhower Veterans Monument
Jul 3, 2014
Denison -- Bricks are being sold now through July 4 for the Eisenhower Veterans Monument at Loy Lake Park.
In February 2011, a 16' bust of former President and Five Star General Dwight David Eisenhower was erected near the city limits of Denison, Eisenhower's birthplace. The statue is the centerpiece for the Eisenhower Veterans Monument located at the entrance to Loy Lake Park. The ground surrounding the bust is paved with engraved bricks, and brick sales will continue through July 4 for installation by October.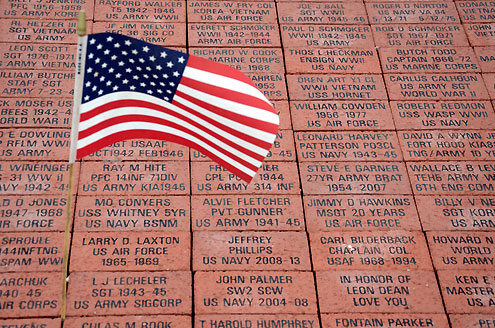 The new bricks will be dedicated during a ceremony to commemorate Eisenhower's birthday. Denison will also honor our WWII veterans at the dedication. In order to obtain names of the veterans, please contact Donna Dow, at 903-464-4452 or ddow@cityofdenison.com with their name, address, and phone so we can issue an invitation.
Bricks are $70 for veterans and $100 for non-veterans. The forms can be found at www.denisontexas.com. The website also hosts a brick locator for those who already have bricks at the site.