Lifestyles
Dino Days 2014 set to begin Tuesday, June 24
Jun 24, 2014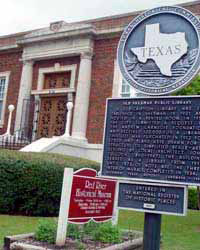 Sherman, Texas -- The Sherman Museum announced today that their popular summer dinosaur exhibition, Dino Days, will open this upcoming Tuesday, June 24, for a 3-month run. Cost for the exhibition is $5.00 for persons 6 years and up. Museum members and children 5 and under get in for free.
This year's exhibition will include four complete skeletons – the most ever displayed during Dino Days – as well as casts from various other dinosaurs. Dino Days 2014 will feature two Jurassic heavyweights, Allosaurus (25-feet long) and Stegosaurus (about 20-feet long). Both will be displayed together in a fighting posture. Returning for a second visit will be Velociraptor and Protoceratops. New to Dino Days will be two footprint casts donated to the museum earlier this year, both from individual animals believed to be Acrocanthosaurus atokensis. The original footprints from which the museum casts were made are estimated to be 113 million years old, dating back to the early Cretaceous period, and were discovered in Hamilton County, Texas.
"I am excited that our skeletons will be posed interacting together, and I am anxious to see how our exhibit planners have designed their conflict," noted Museum Director, Dan Steelman. "These animals lived together at the same time and contended with each other. I am pleased that we can pose them as animals and not just museum pieces."
Other returning popular Dino Days attractions are the Dino Dig and the 3-D Dino Theater. The dig allows children to search for fossils using paleontological techniques. The theater displays dinosaur documentaries and feature-length movies like Jurassic Park 3-D and Walking with Dinosaurs in 3-D. Dino Academy will return again this year offering children ages 6-12 a hands-on dino experience.
During June hours for Dino Days will be 10:00 am – 4:00 pm, Tuesday through Saturday. Beginning in July and continuing through August, special extended hours will be offered on Tuesdays when the museum will stay open until 7:00 pm. Regular Tuesday hours will return in September.
About The Sherman Museum
The Sherman Museum is a non-profit 501(c) (3) educational organization devoted to collecting, preserving and interpreting objects of historical significance to Grayson County and the Greater North Texas Region. For more information about The Sherman Museum, visit us on the web at www.TheShermanMuseum.org.