Lifestyles
3rd annual Splash Out Childhood Cancer event at Hawaiian Falls The Colony
Jul 10, 2014
THE COLONY, Texas -- TeamConnor Childhood Cancer Foundation and Hawaiian Falls are teaming up for the third consecutive year to raise awareness and help fund research to find a cure for childhood cancer. Splash Out Childhood Cancer will be held 10:30 a.m. - 10:00 p.m. on Friday, July 11 at Hawaiian Falls The Colony.
"The entire family can participant in this event while helping TeamConnor fund more research," said Joy Cruse, founder of TeamConnor Childhood Cancer Foundation. "Although the Splash Out Childhood Cancer event takes place July 11, these passes are good any day throughout the summer at any of the Hawaiian Falls water parks in North Texas."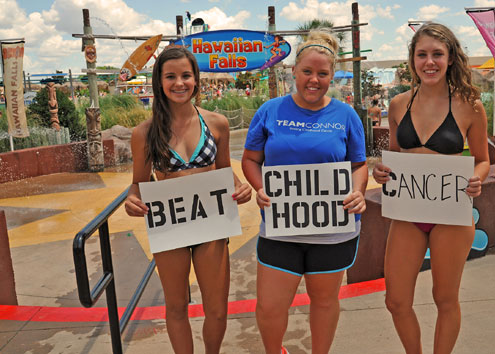 July 11, 2014 event benefits TeamConnor Childhood Cancer Foundation photo courtesy of TeamConnor Childhood Cancer Foundation
Proceeds from Splash Out Childhood Cancer at Hawaiian Falls The Colony benefit TeamConnor. Tickets are only $20, normally $26.99 plus tax and must be purchased at www.TeamConnor.org to receive the discount. Children two years and under are free.
Splash Out Childhood Cancer tickets are valid throughout the summer at any of the five North Texas Hawaiian Falls locations in Garland, The Colony, Mansfield, Roanoke and White Settlement.
July 11 coincides with the first Friday night slides of the season at Hawaiian Falls The Colony. Guests are invited to stay through 10 pm to enjoy the slides after dark.
"Supporting TeamConnor is part of our mission to give back to the community while bringing families closer together," said Leigh Ann Hatchett, Hawaiian Falls marketing director. "We're planning a great day for families, including fun games, contests and special activities led by our Team Splash. Several honored families will be here representing kids who are currently fighting childhood cancer, survivors, and even some who are here in memory of a child who lost their battle against childhood cancer."
In addition to Splash Out Childhood Cancer, TeamConnor will host several other events this year to raise funds and awareness for childhood cancer research, including the Cure Cancer Jam on September 13; the 3rd Annual National Childhood Cancer Awareness Concert at Watters Creek September 20; Color Me Green 5K and Caterpillar Dash October 4; and Northwestern Mutual Clay Shoot November 6.
TeamConnor's national program Coins for Kids with Cancer® raises funds in schools, churches, offices and organizations across the country to help fund childhood cancer research.
Every year, more than 12,000 children and adolescents are diagnosed with cancer in the United States. Childhood cancer is the number one disease killer of children, yet the budget of the National Cancer Institute allocates less than four percent of its funds to pediatric cancer research. TeamConnor Childhood Cancer Foundation is dedicated to raising awareness and funding research and treatment programs to find a cure for all childhood cancers.
For more information on how to impact the lives of those affected by childhood cancer please visit www.teamconnor.org or find us at Facebook.com/TeamConnor.