Local News
Ruiz Food Products expands, brings jobs to Denison
Jul 2, 2014
Dinuba, CA -- Ruiz Food Products, Inc. announces the Phase II Expansion of its Denison, Texas manufacturing facility. On June 19, 2013, Ruiz Foods announced a building expansion that included the installation of equipment for Phase I.

"With Phase II we will continue to meet the growing demand in key market segments," said Rachel Cullen, President & CEO, Ruiz Foods. "We are also pleased to announce that with Phase II Ruiz Foods – Denison hopes to add up to 150 to 175 new jobs over the next several years."

Ruiz Foods is celebrating its 50th birthday. Fred Ruiz and his father, Louis, co-founded Ruiz Foods in 1964 selling enchiladas, burritos and tamales to local 'mom and pop' grocery stores in the small rural community of Tulare located in Central California.
"The recipes were based on the family favorites made by my Grandma Rosie," explains Kim Ruiz Beck, Chairman and third generation Ruiz family member. "Today, we include all these family favorites as part of our flagship El Monterey® brand. My grandpa Louis and grandma Rosie would be very proud."

Ruiz Foods manufactures El Monterey® - the #1 selling brand of frozen Mexican food in the United States. The company also manufactures Tornados® - a snack leader on the convenience store roller grill.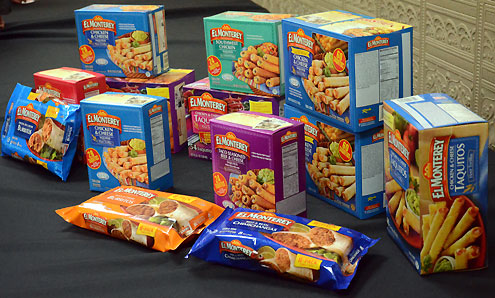 The Company announced its initial expansion into Denison, Texas in May 2005. A complete renovation of the facility began immediately. By January 2006, the company scheduled its first shipment of El Monterey® Family Pack Burritos.

"Texas and the City of Denison are blessed to be the home of Ruiz Foods' fastest growing plant. They are a superior corporate citizen and provide not only a highly sought-after product but excellent job opportunities for our region," said Mayor Jared Johnson, Denison, Texas. "Ruiz Foods will now become the largest investor and employer in Denison's manufacturing history. Congratulations to the Ruiz family and their management team for building and expanding their world class company in Denison."

Earlier this month, Ruiz Foods announced an East Coast expansion through the purchase of an existing facility in Florence, South Carolina. The company is also expanding its corporate headquarters located in Dinuba – the heart of California's Central San Joaquin Valley.

ABOUT RUIZ FOODS
Ruiz Foods is a privately owned corporation. Kim Ruiz Beck is Chairman and the elder daughter of Co-Founder and Chairman Emeritus, Fred Ruiz. Rachel Cullen is the President and CEO.

Ruiz Foods is dedicated to premium quality, authentically prepared frozen foods selling to all channels of distribution: retail, convenience store, clubs, vending, industrial and foodservice. The El Monterey® brand is the market leader within the frozen Mexican food category and the No. 1 selling brand of frozen Mexican food in the U.S. The Tornados® brand, introduced just eight years ago, has revolutionized the use of the roller grill in convenience stores. For more information regarding Ruiz Foods, please visit www.ElMonterey.com. For more information about Tornados® snacks, please visit www.MyTornados.com