Front Page
Coca-Cola in Bonham: part 2
Jul 8, 2014
When I last wrote about the history of Coca-Cola bottling in Bonham, one of the facts I noted was that the move from the second plant, located at 119 West Fifth Street, to the third and last plant, on Highway 78 North, occurred in February 1948. Since that article, additional newspaper clippings have come to light, and an interesting photograph adds spice to the mix as well.
As noted in my previous piece, the Bonham Coca-Cola Bottling Company by 1947 was owned by the Woodson brothers, Glenn and Sam, Jr., of Sherman and Fort Worth fame. They inherited the operation, which was started in 1919, from their father, Sam Woodson, Sr., after his death in July 1943.
The Woodsons apparently planned big changes for the Bonham plant by at least early 1947. By late August they had it under a formal contract, perhaps its first one.
Barely had the ink dried on the contract when a front-page article in the September 19,1947 Bonham Daily Favorite noted the beginning of construction of the new plant on Highway 78 North.
Why the need for a new plant? Carroll W. "Buster" Johns, a veteran employee of Coca-Cola Bonham who returned to the business after serving in India in World War II, was quoted as saying: "Being downtown is no advantage to us. All of our business is wholesale and delivered by trucks and our new location will give us plenty of room for our trucks."
In other words, location, location, location.
The same issue of the Daily Favorite carried another front-page headline which also hinted that the new Bonham plant was going to be serious about increased production. It read: "New Manager for Coca-Cola Plant Here."
Wallace Hill, a Sherman native who had been running the Bonham plant for several years, had been put in charge of another Woodson Coca-Cola plant in Durant.
Buster Johns acted as the interim manager in Bonham until Charles Ussery, another Sherman native, could take over. The Daily Favorite article noted that Ussery "assumed his position as manager of the new plant this week and expects to move to Bonham with his wife and two children as soon as a house can be secured."
The article further noted that Johns, perhaps the only Bonham native in management, "will be in charge of production, supervising bottling and distribution of the products."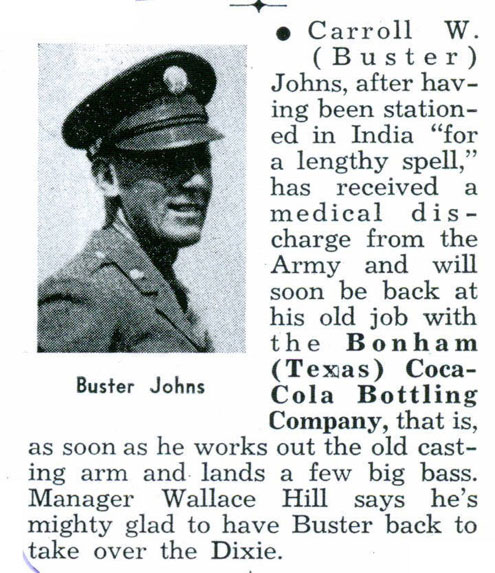 This clipping about Carroll W. "Buster" Johns was taken from the January 1945 Coca-Cola Bottler.
And so the plant on Highway 78 produced perhaps millions of bottles of soft drinks until its bottling contract was cancelled On October 1, 1974. It remained opened, still under Charles Ussery, as a distribution center until it was consolidated with Sherman in 1980.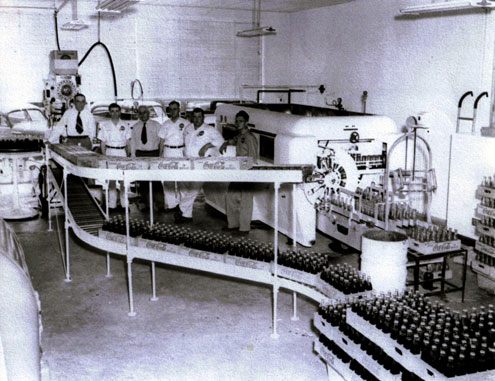 photo courtesy of Mr. & Mrs. Casey Jones
The above photo was given to Mr. & Mrs. Casey Jones when they ran an antique store in Bonham. It came with no information. Could it be an interior shot of the Coca-Cola bottling plant on West Fifth Street in Bonham? Anyone who has a clue or can provide any information is free to contact me at 903-227-1772 or tim.davis@bonhamisd.org.
Tim Davis teaches at Bonham High School.