Lifestyles
Heard Museum hosts exhibit, presentations about now-extinct, once-abundant bird
Aug 7, 2014
McKinney, Texas -- Once described as being so numerous that they obscured the sun when in flight, the passenger pigeon is now extinct. This year, Project Passenger Pigeon marks the centenary of this extraordinary extinction. From August 1 through October 31, 2014, Heard Natural Science Museum & Wildlife Sanctuary is participating in this nationwide program to bring the subject of conservation to the forefront through informative and interactive exhibit installations and presentations. The Heard is one of the few educational facilities in the state of Texas with a specimen in its collection, and the only one of such locations to display it during this national event.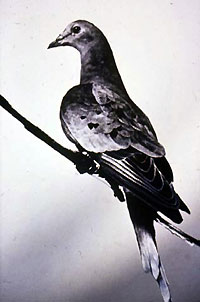 Martha, the last Passenger Pigeon

Though a century has passed since the loss of this species, it remains a poignant example of nature's abundance, as well as a powerful reminder of humanity's ability to exhaust seemingly endless riches. The echoes of the passenger pigeon's life still resonate today and can teach us lessons of stewardship, hope, and sustainable living for the 21st century. There is no better cautionary tale to the proposition that no matter how abundant something is it can be lost if we are not careful in our use.

Presentation: ďA Feathered River Across the SkyĒ

On August 12, 2014, at 7 p.m. at Heard Natural Science Museum & Wildlife Sanctuary, author Joel Greenberg will bring the story of the passenger pigeon to life and speak about his new book, ďA Feathered River Across the Sky: The Passenger Pigeonís Flight to Extinction.Ē Greenberg has been a birder/naturalist for 45 years, and has shared his love and knowledge of nature and conservation by authoring three books, writing numerous articles, co-hosting a radio show, blogging on Birdzilla.com, and lecturing widely. He has also written the first book on the species in over 50 years. Joel uses his passion and humor in telling the poignant story of this species, which also includes the interesting human characters that populate the birdís history. But this is not just about the past: What happened to the passenger pigeon is relevant to us and those who come after.

Limited tickets to this presentation will be available to the public for $10 each, beginning August 4th. This presentation is sponsored by the Blackland Prairie Master Naturalists and Prairie & Timbers Audubon Society.

About Heard Natural Science Museum & Wildlife Sanctuary

The Heard was founded in 1967 by Bessie Heard. Miss Heard was 80 years old when she saw the need to preserve a place where future generations could experience nature. Today, the Heard's mission of bringing nature and people together is carried out through education, particularly of young people, which emphasizes an appreciation of nature and its conservation. For more information, visit www.heardmuseum.org.