Local News
Texoma Community Center provides services for children
Jul 28, 2014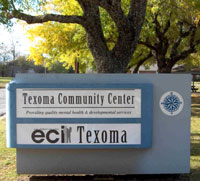 Samantha Ehsani has a passion to work with children with behavioral and mental health issues. She has been working with children and adolescents as a case manager for Texoma Community Center's Child and Adolescent Mental Health Services (C&A MH). She has achieved much success in working with the school systems.

"The schools have worked well with me. They have learned that C&A MH is a great help and that we want to make a difference in the children's lives we serve. They also know that they cannot do everything for every child alone and that there are other community resources available. I first build a rapport with each child. I try to get on the child's level with understanding and empathy," says Ehsani.

"After a child is receiving services, I like to be proactive with the child and try to defuse the situations before a problem erupts. I go to the schools and meet with some of the children on my caseload. I can find out what the child is thinking and help him/her look at different ways to cope with situations," states Ehsani.

"Today's family is burdened with so many issues. Kids are not growing up in traditional families. Many biological fathers are not present in the home. In fact nationwide more than 25,000,000 children are growing up in homes without a father. Single mothers and blended families are the norm. I provide feedback and work with teachers to help them understand the child and give them some advice on changing the child's behavior. I encourage parents to connect with the teacher, and this is often beneficial. I try to connect with each child's family and relate to them. I work with the school's behavioral coaches and case managers. Everyone has an obligation to the children," she continues.

"Children in my caseload participate in skills training and structured groups. They learn acceptable behavior such as manners, social behaviors in public, proper interaction with peers, respect for others including parents, and that everyone should have a voice. Anger management is another part of skills training where the children express their feelings in art or collages. Then they tell the group what they are expressing. Some of the older children act as peer leaders when we go out into the community. This helps them to develop leadership skills. I have seen progress in the children who receive our services and I am love to work with the children," ends Ehsani.

Child and Adolescent services are available in Cooke County at 319 North Dixon, Gainesville-940-665-3962; Fannin,County at 1221 East 6th Street, Bonham-903-583-8583; and Grayson County, 315 West McLain Drive, Sherman-903-957-4820. A 24-hour/7 day a week crisis line is available at 1-877-277-2226.