Entertainment
Shelby American to star at Fifth Annual Shelby Car Show in Plano June 21
Jun 21, 2014
LAS VEGAS, Nev. -- Shelby American and Carroll Shelby Licensing will be featured at the Fifth Annual Shelby Car Show, hosted by the Shelby Cobra Association of Texas (SCAT) and LegacyTexas Bank on June 21, in Plano, Texas at 5000 Legacy Dr. This one-day event is free to the public and will feature Shelby American's latest vehicles, including the 624 HP Shelby GT/SC and the limited addition 50th Anniversary Shelby FIA Cobra. Also, the mobile Carroll Shelby's Store will be making its Texas debut. This annual event has become one of the largest Shelby shows in the Southwest.
"This event is extremely special for the Shelby family," said Joe Conway, CEO of Shelby American. "Carroll always viewed Texas as home, so it's important to keep his heritage alive here. This year we're pleased to display the limited addition 50th Anniversary Shelby FIA Cobra. It commemorates Shelby American's 1964 introduction of the FIA version of the small block Cobra and celebrates its accomplishments as one of the most important cars in American racing history."
The show kicks off at 10 a.m. with Shelby American's high performance line-up, which includes the terrain-dominating Shelby Raptor, the wickedly powerful GT500 Super Snake and the new Shelby GT/SC. Members of the Shelby family will be in attendance as well as some of the cars from their collection.
Also, for the first time, fans will have a chance to purchase Shelby merchandise during the event from the Carroll Shelby's Store merchandise trailer. Carroll Shelby's Store "on wheels" will carry die casts, signs and authentic Shelby apparel which includes hats, jackets and shirts. It will have a unique selection of rare memorabilia such as legacy items signed by Carroll Shelby and limited edition prints.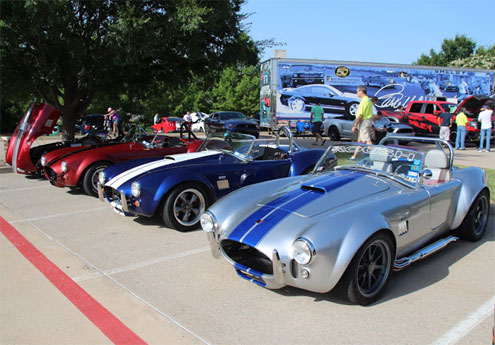 "I predict this year's show will be the best yet," said Aaron Shelby, LegacyTexas Bank Executive vice president and grandson of Carroll Shelby. "In addition to our friends from Shelby American joining us again this year, we will also have the very limited Cobra 289 FIA on hand. Both my family and the bank are very proud of this community event."
The Shelby car show will be held at the bank's corporate headquarters at the intersection of Preston Road and Legacy Drive. In addition to the Shelby American models, the event will also feature rare and vintage cars from the private collection of the Shelby family, majority owners of LegacyTexas Bank.
For more information, visit LegacyTexasBank.com/ShelbyCarShow or Facebook.com/ShelbyCarShow.
About Shelby American, Inc.
Founded by legend Carroll Shelby, Shelby American manufactures and markets performance vehicles and related products. The company builds authentic continuation Cobras, including the 427 S/C, 289 FIA and 289 street car component vehicles; it offers the Shelby GT, 1000, GT500 Super Snake and GTS post-title packages for the 2005-2014 Ford Mustang. Shelby American also builds the Shelby Raptor muscle truck and Shelby Focus ST hot hatch. For more information, visit www.shelbyamerican.com.
About Carroll Shelby Licensing
Automotive manufacturer and entrepreneur Carroll Shelby is one of the most famous and successful high performance visionaries in the world. He was also a pioneer for modern automotive licensing programs; beginning in the 1960s, he began licensing his name and designs for various products. He founded Carroll Shelby Licensing Inc., which is the exclusive holder of trademarks and vehicle design rights for some of the most famous muscle cars and high-performance vehicles. CSL also holds trademark rights for Shelby-branded apparel, accessories and collectibles. For more information about the company or licensing opportunities, call (310) 914-1843, fax (310) 538-8189, write Carroll Shelby Licensing, Inc., 19021 S Figueroa St., Gardena, CA 90248, or visit carrollshelby.com, shelbylicensing.com or carrollshelbyinternational.com.