School News
Summer Camps at Creative Arts Center
Jul 2, 2014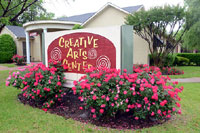 Each year, the Creative Arts Center hosts Summer Camp in June, July and August. This year is no exception and they are offering a full lineup of camps for kids.
Art and Theater camp will be offered July 14-18 from 10-noon and Art from 1-3. Another Photography Camp may be scheduled if interest warrants. August brings the Anime, Sci-Fi and Fantasy Art Exhibit and in keeping with the theme, the arts center will again offer an Anime Camp, taught by well known illustrator Brian Brinlee. This camp is for ages 12 and up (including adults) and is scheduled for Tuesday through Friday, the 12th through the 15th of August.
Art in the Afternoon class will continue throughout the summer. This class is Wednesday afternoons from 4 to 5 and the theme this summer will be "Animal Planet."
Other family projects are planned for the summer. Possibilities include: family drum making classes, yard art class, adult photography and others. If you have an idea for a family class, please call us and let us know. For more information on camps and other programs, call 903-640-2196. Scholarships for children are available on a limited basis.