Lifestyles
Denison first responders 'Thank You' walk & community cookout June 14
Jun 13, 2014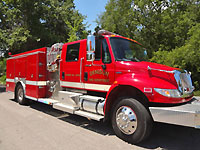 Denison -- We are going to say THANKS to the men and women that work so hard every day to keep our city safe... our firefighters and police officers put their lives on the line for us every day! We are working closely with both departments to organize this event! The fire department will have a fire truck at the lake for the kids to see, and we will be cooking hot dogs on the grill!

Saturday, June 14

Walk starts at 11:00 a.m.

Hot dogs and chips will be served from noon to 1:00 p.m.

The cookout will be located at Waterloo Park (not the lake side, but the park side down near the horseshoe pits).

Four teams of walkers will start out from each of the three fire stations and from the police station and will walk to Waterloo Park. Anyone that wants to walk is welcome to arrive at the park at 11:00 a.m. and begin walking the paved track until the walking teams begin arriving from their stations. Anyone interested in joining one of the walking teams can contact Walk Texoma or Walk Away From Bullying (W.A.F.B.) on Facebook.

Walk Texoma: https://www.facebook.com/WalkTexoma

W.A.F.B.: https://www.facebook.com/WalkAwayFromBullying

Event Page: https://www.facebook.com/events/380377975433994/

The cookout is open to everyone, walkers and non-walkers. The fire department will have a truck out there for the kids to see, and the police will have a presence as well. There will also be face painting and fun crafts for the kids.

People are encouraged to bring a lawn chair, as there are limited picnic tables at the site. We also are greatly encouraging anyone who plans on attending to PLEASE RSVP to the Facebook event page, so we can have an idea on how much food to prepare.