Front Page
Kathryn's Texas Kitchen
Jun 15, 2014
Artichokes are a variety of the species thistles and are a native of the Mediterranean area of Europe.
It remains a mystery who discovered that part of the flower buds of artichokes were edible before they turn into flowers.
It is thought that they were originally from Italy and were eaten by Greeks and Romans.
From there the Dutch took them to England where they were also grown in Henry VIII's garden.
The English transported them to the United States in the 19
th
Century.
Today, California is the main provider of artichokes in America.
I didn't eat an artichoke until my early 20's when served one at a friend's house. What a delightful discovery this vegetable was to my taste buds. Now I cook them often and love to serve them to friends who've never had them. They make a great appetizer as well as a delicious vegetable for the dinner table.
Artichoke Dip with Crispy Shallots
Recipe adapted from Food & Wine, February 2013
8 servings
Ingredients
2 TB extra-virgin olive oil, plus more for frying
2 large shallots, 1 minced and 1 thinly sliced
2 garlic cloves, minced
1 9-oz package frozen artichoke hearts, thawed and drained
¼ cup dry white wine
8 oz cream cheese, softened
1 cup shredded Gruyere cheese
2 TB finely chopped parsley
1½ TB lemon juice
1 tsp Tabasco
½ cup plus 2 TB freshly grated Parmigiano-Reggiano cheese
Kosher salt and black pepper
¼ cup panko bread crumbs
Toast points and assorted crudities, such as blanched broccoli florets, red bell pepper strips and fennel wedges, for serving
Other Items Needed
Measuring cups and spoons
Cutting board
Chef's knife
Medium skillet
Wooden spoon
Medium bowl
Spatula
3 cup baking dish
Small skillet
Slotted spoon
Paper towels
Instructions
Preheat the oven to 400 degrees. Heat the 2 TB of olive oil in the skillet. Add the minced shallot and garlic. Cook over moderately low heat until softened, stirring occasionally, about 5 minutes.
Add the artichokes and cook over moderate heat until heated through, stirring occasionally, about 5 minutes. Add the wine and simmer until most of the liquid has evaporated, about 3 minutes. Let the mixture cool.
In the bowl, combine the cream cheese, Gruyere, parsley, lemon juice, Tabasco and ½ cup of the Parmigiano. Fold in the artichoke mixture and season the dip with salt and pepper. Scrape into the baking dish and smooth the surface. Sprinkle the panko and remaining 2 TB of Parmigiano on top. Bake for 20 minutes until heated through and lightly golden on top.
In the small skillet, heat ¼ inch of olive oil. Add the sliced shallot and fry over moderate heat, stirring until golden and crisp. Using the slotted spoon transfer the fried shallot to paper towels to drain and cool. Sprinkle the fried shallot on top of the artichoke dip. Serve with toast points and crudities.
To make ahead: The unbaked dip can be refrigerated overnight. The fried shallot can be kept at room temperature. Bring the dip to room temperature before baking.
Kathryn's Texas Kitchen serves up a delicious Texas dessert.
Until next time…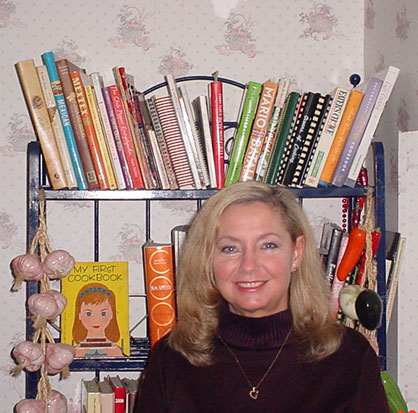 Bon appétit!