Front Page
Kathryn's Texas Kitchen
Jun 8, 2014
As you may know I absolutely love tomatoes. I'm always on the prowl for new tomato recipes. This recipe intrigued me because it also has fresh pineapple and Asian seasonings. It is a perfect salad to go with any meat cooked on the grill. Light and delicious for a meal on the patio as our Texas weather heats up as the official summer season is just around the corner.
Tomato and Pineapple Salad with Garlic Chips
Recipe adapted from Food and Wine, December 2012
4 to 6 servings
Ingredients for the Salad
1 TB soy sauce
4 oz fresh pineapple, cut into ½ inch pieces
3 TB extra virgin olive oil
1 TB rice vinegar
1/2 tsp sugar
1 green onion, thinly sliced
½ TB mirin
2 large tomatoes, cored and sliced ¼ inch thick
¼ small sweet onion, very thinly sliced
4 oz baby arugula
¼ cup golden garlic chips
Ingredients for the Garlic Chips
1½ cups peeled garlic cloves, thinly sliced
2 cups canola oil
Other Items Needed
Measuring cups and spoons
Cutting board
Chef's knife
Blender or food processor
Large serving platter
Large bowl
Salad tossers
Strainer
Heatproof bowl
Small saucepan
Wooden spoon
Paper towels
Baking sheet
Slotted spoon
Instructions for the Salad
In the blender combine the soy sauce with 2 TB of the pineapple pieces, the oil, rice vinegar, sugar, green onion, and mirin. Process until smooth.
Arrange the tomato slices on one half of the serving platter. Scatter the onion over the top of them. Drizzle with half of the pineapple-soy dressing. In the bowl add the arugula with the remaining pineapple pieces. Add the remaining dressing and toss.
Mound the arugula salad on the other half of the serving platter. Garnish with the golden garlic chips.
Instructions for the Garlic Chips
Set the strainer over the bowl. Line the baking sheet with paper towels.
In the saucepan, combine the garlic slices with the oil. Cook over moderate heat, stirring frequently, until the garlic is golden. Drain the garlic in the strainer, shaking off any of the excess oil. Transfer the garlic chips to the baking sheet and spread out evenly. Let them cool. Reserve the strained garlic oil for another use.
The garlic chips can be kept in an airtight container at room temperature for 1 month.
Kathryn's Texas Kitchen prepares a dip that will be perfect for your patio meal.
Until next time…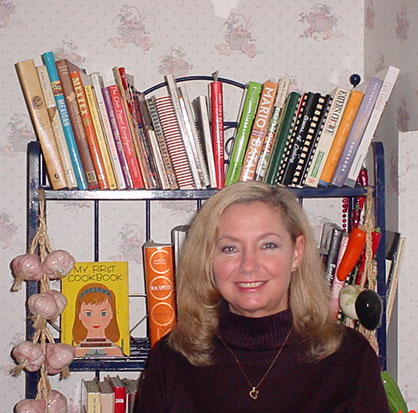 Bon appétit!