Front Page
Dallas AgriLife center to present 'Be Your Own Landscape Designer' program in June
Jun 2, 2014
DALLAS – The Texas A&M AgriLife Research and Extension Center in Dallas will present the "115 Landscape Design – Be Your Own Landscape Designer" program on consecutive Tuesday evenings from June 3-24, said program coordinators.
"If you are on a budget but your landscape needs a facelift, then you can learn how to be your own landscape designer by learning hands-on, do-it-yourself approaches to landscape design during this program," said Karen Sanders, Texas A&M AgriLife Research urban water program assistant, Dallas. "During the four program classes, attendees will learn about proper plant placement, fundamentals of landscape design and how to develop a more water-efficient landscape."
Sanders said classes will meet from 6-9 p.m. June 3, 10, 14 and 24 in Building C of the center, located at 17360 Coit Road.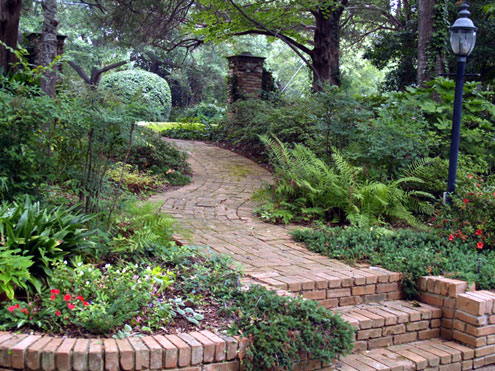 The 'Be Your Own Landscape Designer' program in June at the Texas A&M AgriLife Research and Extension Center in Dallas will emphasize water-efficient landscapes. (Texas A&M AgriLife Extension Service photo by Keith Hansen)
She noted the program will emphasize low-water-use plants, plus drip and other efficient means of irrigation to help conserve urban water resources and save money. After the program concludes, attendees will receive a free 30-minute consultation by Patrick Dickinson, AgriLife Research urban water program coordinator at the Dallas Center, to finalize their plans.
Dickinson, who has a bachelor's degree in horticulture from Tarleton State University, is an International Society of Arboriculture certified arborist and has extensive experience in landscape design. He said, depending on the size of the project, the cost of a landscape design drawn up by a professional company could be more than triple the cost of the program.
"We want attendees to come to the first week's class with a general idea of where they would like to do the landscaping — front yard, backyard, around a pool area, etc. – and bring general measurements, pictures and specifications," Dickinson said. "It is the goal of the program that by the end of the fourth week they will be able to develop their own final plan for a landscape design, after which I will be available to provide additional suggestions and guidance."
Program cost is $395. To register, go to: http://dallas.tamu.edu/courses/2014/june-2014-landscape-design-school/. The program is limited to 25 participants and registration is on a first-come, first-served basis.
For more information, contact Sanders at 972-952-9671 or karen.sanders@tamu.edu.