Entertainment
Hear two fantastic artists at Harmony House on June 28!
Jun 27, 2014
On Saturday night, June 28, 7:30 p.m. - 9:30 p.m., come add some zest to your life and listen to the mesmerizing music of two of Texas' finest singer-songwriters. Danny Schmidt and Carrie Elkin will be performing and interacting with guests in the intimate atmosphere of Harmony House at Wildscape Acres, just 10 miles north of Bonham. Check out our website, www.WildscapeAcres.com, for more information.
Make reservations for their show by calling 903-583-2661. Leave the number of tickets desired and your contact information for Faye and Scott, the hosts. Reservations are $15 per person. To prepay, make your check to Danny Schmidt and send to Faye Wedell; P.O. Box 812; Bonham, TX 75418. Refunds will be made to anyone canceling by June 25. Guests may also pay at the door. However, if you make a reservation, please have the courtesy to show up or cancel in advance. Should you need directions, please request a set when making reservations.
Carrie and Danny have just released their first duo CD together. Each performing artist has had his own separate career and just recently merged their talents. There will be 45-minute sets with a 30-minute intermission for guests to enjoy talking with this duo, grazing on snacks, and mingling with guests. Faye and Scott will provide bottomless cups of coffee, tea, and punches for everyone to enjoy. There will be no Potluck Dinner before or after this show. Instead, attendees are requested to bring a finger-food "treat" to be shared with all. Tables for food will be set up in several rooms of "this 'ole vintage home." Feasting and hearing some spicy music...what more could one ask?
TWO GREAT ARTISTS - ONE DELICIOUS NIGHT!
It's a special treat when Danny Schmidt and Carrie Elkin, who normally tour separately and solo, get to share the stage together. If the chemistry seems especially sparkful, they come by it honestly, as they are a rare breed: a romantic partnership in real life, not just musical life. And the two together on stage makes for a classic case of the whole being greater than the sum of its parts.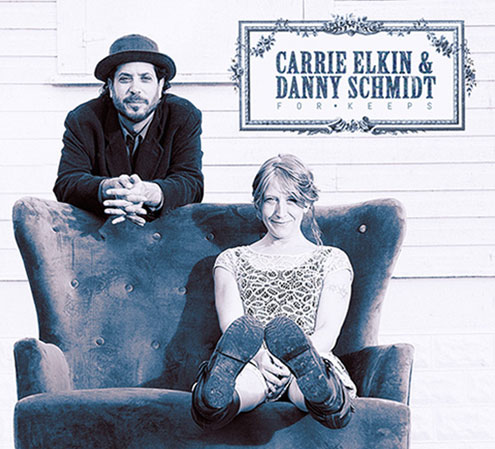 Danny Schmidt is best known for his riveting poetic lyrics, which have drawn favorable comparisons to Leonard Cohen and Townes Van Zandt for their depth and complexity. And gypsy spirit Carrie Elkin is best known for her incredibly soulful and dynamic vocals, which have drawn favorable comparisons to Patty Griffin at her most powerful, and Nanci Griffith at her most intimate.
Together, the respective strengths they each bring, individually, merge into a much greater whole . . . a performance of great energy and spirit . . . and one that audiences seem to be able to connect with on a multitude of levels, at once: Emotionally, Spiritually, and Intellectually.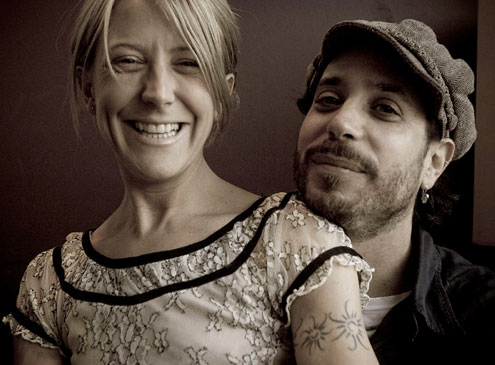 On Danny:
Named to the Chicago Tribune's 50 Most Significant Songwriters in the Last 50 Years, Austin, TX-based singer/songwriter Danny Schmidt has been rapidly ascending from underground cult hero status to being broadly recognized as an artist of generational significance. Danny is considered a preeminent writer, an artist whose earthy poetry manages to somehow conjure magic from the mundane, leading Sing Out Magazine to tag him: "Perhaps the best new songwriter we've heard in the last 15 years." Visit www.dannyschmidt.com to hear songs, see videos, and learn more.
On Carrie:
Austin, TX-based Carrie Elkin is a born performer, possessing an infectious energy that cannot be contained. As Maverick Magazine so eloquently put it: "We have never seen a performer so in love with the act of singing. Onstage Elkin is simply a force of nature." With her dazzling voice and unpretentious charm, Carrie wins over audiences with songs that are, as FolkWax puts it: "Intimate, yet universal. Naked, yet richly adorned. Her voice is simply revelatory." Go to www.carrieelkin.com to get glimpse into Carrie's talent.
Don't miss these two great artists in a rare split-bill performance, sharing songs back and forth, lending their voices to each other's tunes, in harmony. And lending commentary to each other's tunes, in the form of clever between-song banter.